Social WiFi Product Updates
What's new with Social WiFi? Read about our latest product updates and learn about the latest features and enhancements we've implemented.
Friday 8th September 2023
Thursday 31st August 2023
ChatGPT functions upgrades to GPT-4. Improved outputs on Inbox reply suggestions and Feedback Analysis.
Friday 18th August 2023
All references to Twitter now replaced with 𝕏.
Friday 28th July 2023
When viewing splash pages at a Project level, you will now see which pages are active and at which venue.
Due to an update of the Terms of Service with Freshmail, all clients using this API integration have had their connection disabled until they accept the new ToS. Relevant user have been emailed by Social WiFi.
Fix to logos which now prevents them from stretching when they exceed certain width and height parameters.
Wednesday 26th July 2023
Improvements to loading of Splash Pages in the dashboard for clients with multiple draft and inactive page versions. Loading speed will now be greatly improved.
Duplicate MAC addresses will now be highlighted when pasting into the Access Poiints tab of the dashboard.
Wednesday 19th July 2023
When downloading login instructions from the dashboard homepage, you can now choose between English, Spanish and Polish language versions.
You can pre-register your interest in SMS Marketing from Social WiFi. You will see a new tab on the left-side of the panel and information with the option to share your interest.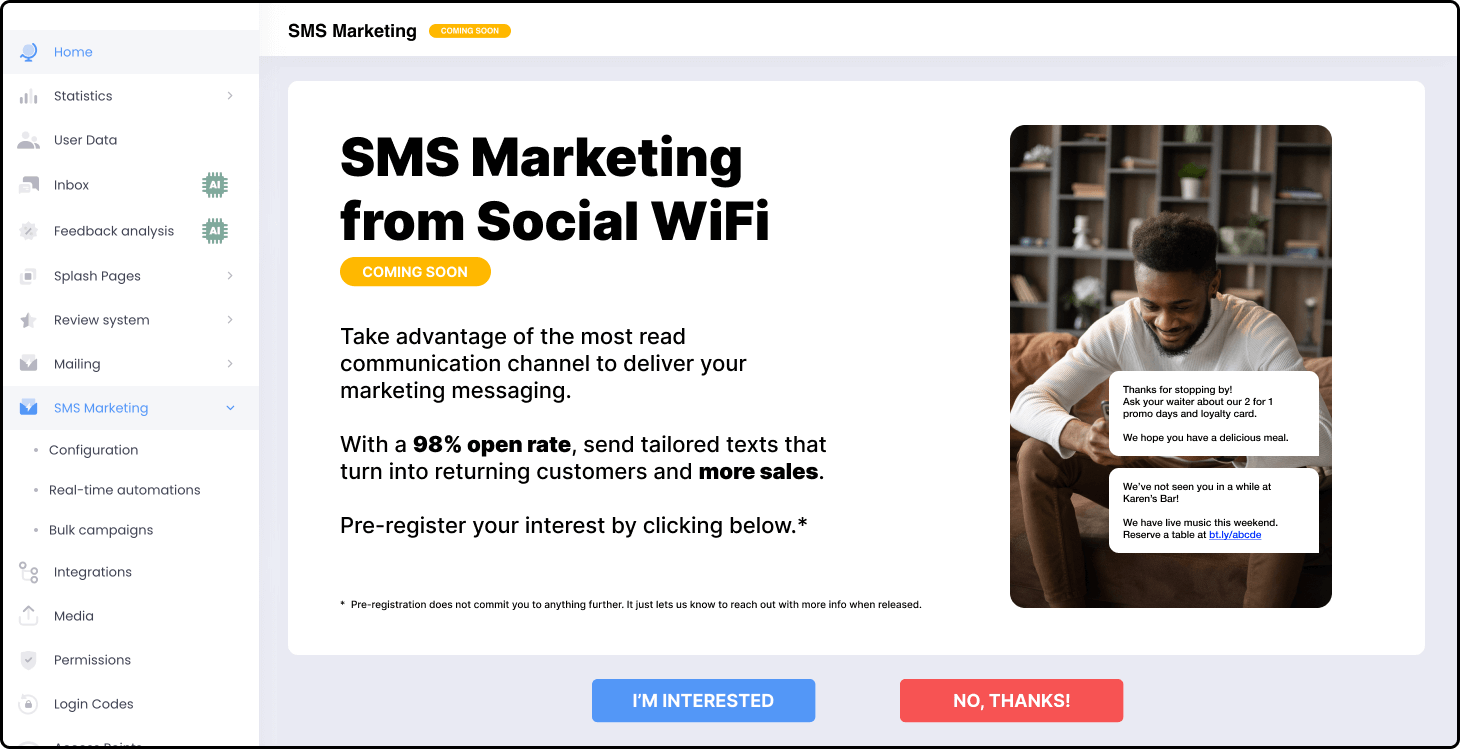 Tuesday 11th July 2023
Advanced email automation scheduling to only send to users that log in on certain days and/or between certain times

Friday 7th July 2023
The webp image file format can now be uploaded to the dashboard.
Accounts with more than 15 venues will now load the venue list faster due to UI changes.
Friday 30th June 2023
Update in the Inbox function of the Social WiFi dashboard that does not allow you to reply to customer feedback with no content.
Improvements to the Agreements Page branding options.
The "Accept" button with can now be customised.
The message asking users if they are sure that they with to opt-out of communications can now be customised with an underline to make it more visible as a clickable opt-out option.
Monday 19th June 2023
ChatGPT enhancements to Social WiFi. New Feedback Analysis tool now released to all clients globally.
Use ChatGPT to analyse all customer feedback and provide a summary of how your business can improve to get higher levels of customer ratings.
This currently used ChatGPT 3.5 and should mostly be analysing negative comments from customers due to the way the Social WiFi Review System works.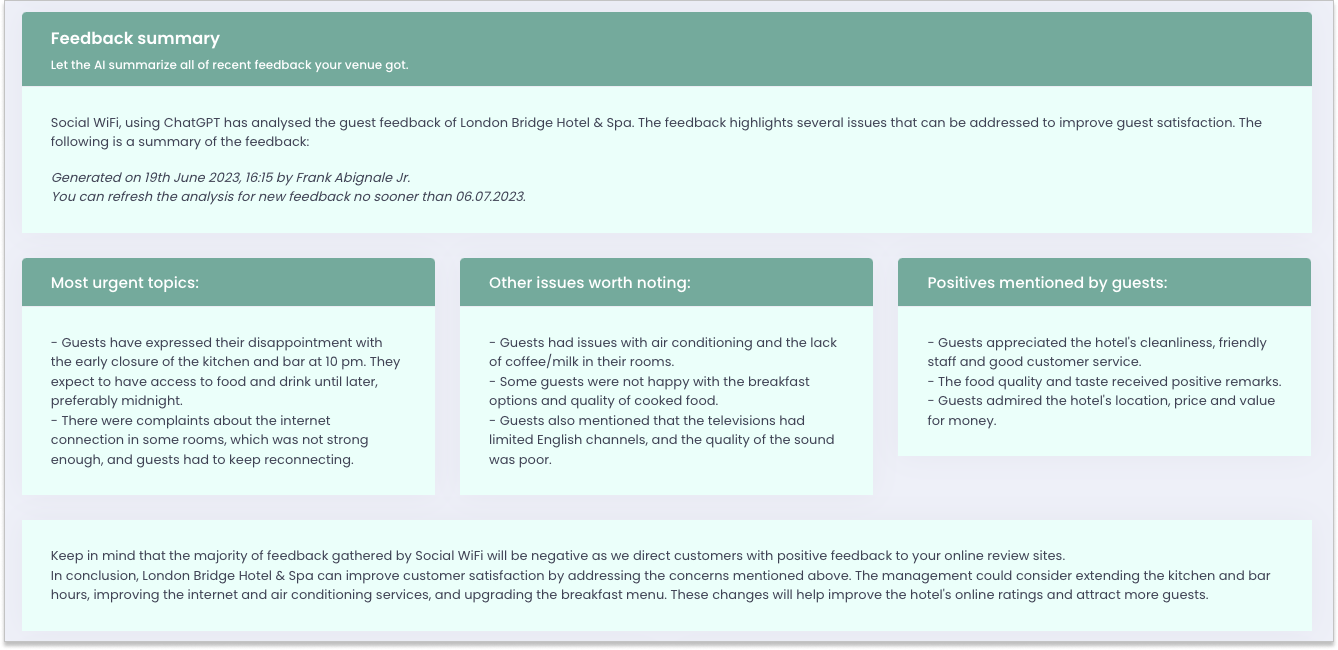 Wednesday 14th June 2023
Enhance Mailchimp API error detection. Clients will be notified of more specific issues with the integration. Previously we would only report on disconnection of the API.
Hardware integration of Social WiFi now available on ExtremeCloud IQ.
Wednesday 7th June 2023
Email login option now has ability to define if additional questions are mandatory. For example, clients can now decide if users must input first name, date of birth etc while completing the form.
Hardware integration of Social WiFi now available on ExtremeCloud IQ.

Friday 26th May 2023
Option to set reply-to email address for system emails from Social WiFi. For example, if you have emails set to be sent by a socialwifi.com email domain, any users that reply to hose emails can now be forwarded to a mailbox of your choice.
Thursday 18th May 2023
Sender ID of SMS verification codes can now be edited. 11 character maximum length.
SMS login option can now ask additional questions during the process in the same way as the email login option.
Wednesday 26th April 2023
ChatGPT API integration launched. First version using GPT-3.5 model.
Feedback inbox can now generate AI suggestions for replies to customers. Paste in the suggestion and send, or edit before sending too.
Faster reporting on Mass Mailing statistics

Tuesday 18th April 2023
Email layouts now available when creating a campaign in the dashboard.
Choose from some set layouts and edit further within the drag-and-drop editor.
Tuesday 4th April 2023
Automated copy and sharing of Splash Pages across Venues within a Project.
By sharing a page template, an update of one Venues style will automatically update all other venues sharing the style. No need to copy across venues any more.
Friday 17th March 2023
Automated detection and flagging of broken CRM integrations.
Friday 3rd February 2023
Social WiFi can now push all historical data to your integrated CRM. You no longer need to import via CSV when adding data to your CRM after the fact.
Improvements made to the speed of loading statistics at a Project level.
Fixes to the inbox at a Project level if you have access to multiple Projects.
Friday 27th January 2023
Send yourself a test email to check its style before launching.
Thursday 12th January 2023
Aruba Instant On hardware integration. Install Social WiFi directly on your Aruba Instant On WiFi access points.

Tuesday 10th January 2023
You can now select a date range when downloading the CRM database from the User Data tab. The date range will select based on a users last visit date.
Integrations can now be copied to other Venues within a Project. For example, your Facebook Pixel settings and your Mailchimp CRM API connection.
You can now suggest a new integration for us to develop from the dashboard. It'll raise a ticket with our team and we'll monitor what is popular.
Monday 2nd January 2023
Lots of backend improvements and minor updates throughout December and we took some time off to celebrate Christmas! Nothing sexy here that you'll notice in the dashboard. Perhaps just some things loading faster!
Tuesday 6th December 2022
Launch of Instagram widget on Welcome Page. Embed posts and allow redirection to app or webpage
Release of generic email mass mailing domain allowing use of mass mailing functions without the configuration of your own SMTP server
Friday 2nd December 2022
Release of Freshmail CRM integration
Release of Klaviyo CRM integration
Monday 28th November 2022
Forward customer feedback via email to any email address
Get your customer feedback and complaints into your existing support systems such as Zendesk and Freshdesk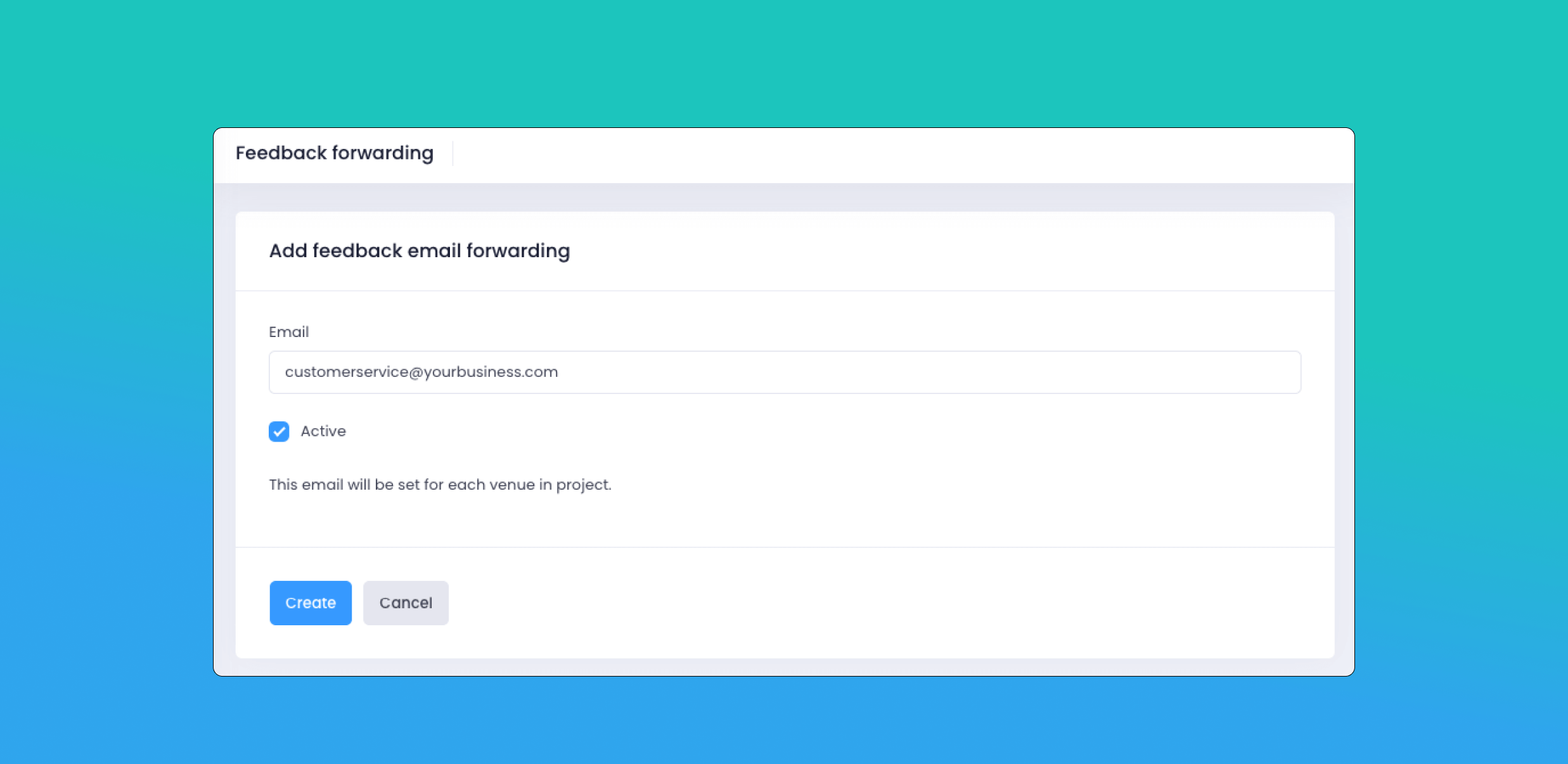 Wednesday 16th November 2022
Monthly report sending can now be sent to a chosen email address
Monday 14th November 2022
Integrations tab now shows which are configured
Grandstream released as a supported hardware vendor
Significant statistics speed improvements. Rollout of update will be phased across the next four weeks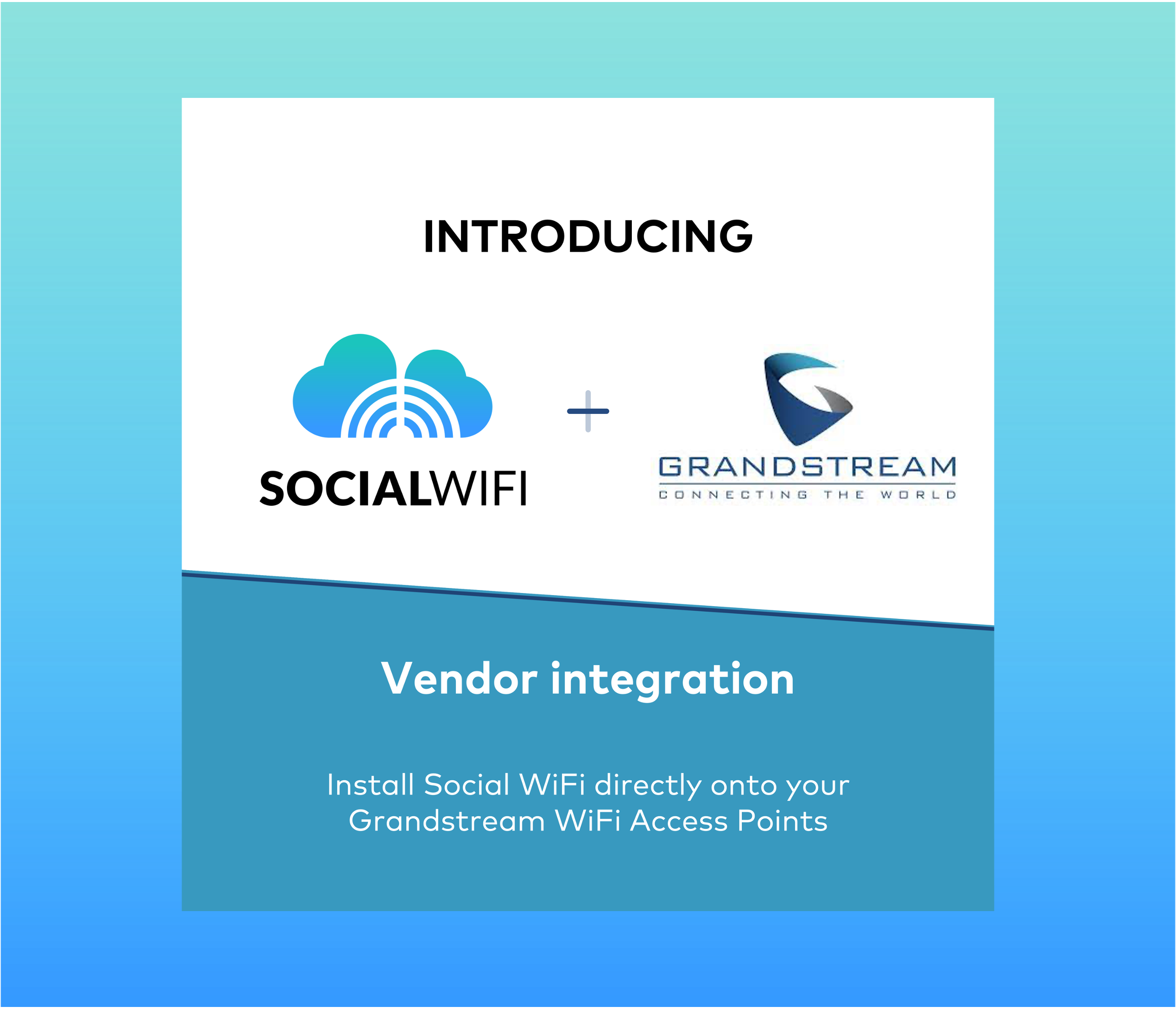 Thursday 27th October 2022
Review widget embed improvements
Updated layout for Social WIFi integrations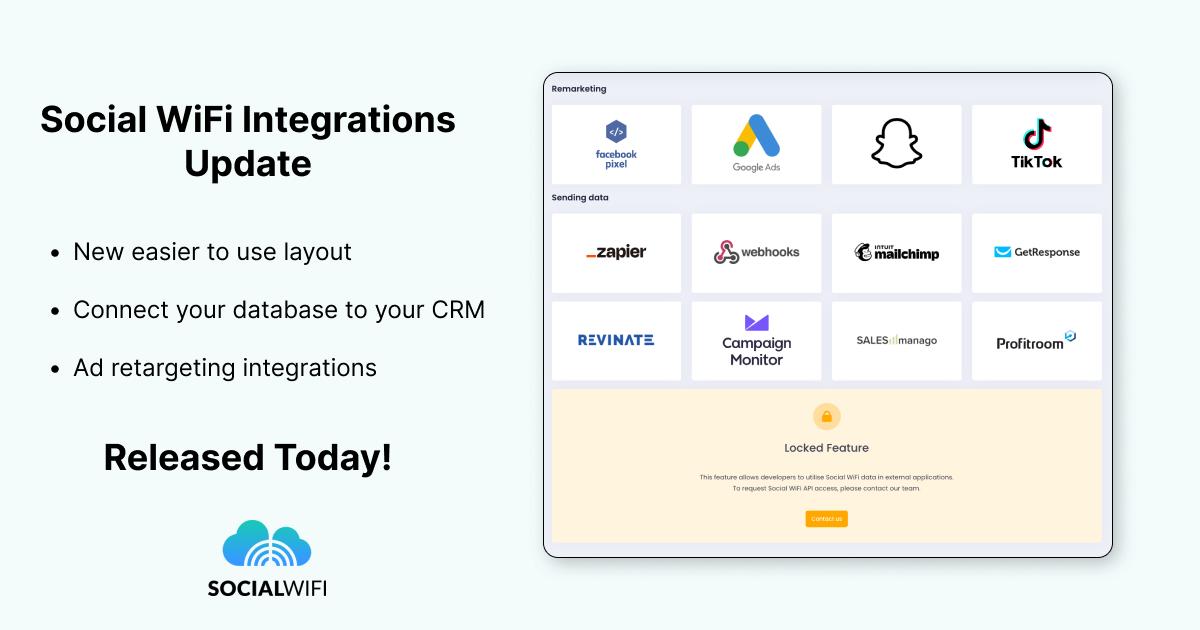 Wednesday 12th October 2022
Review widget embed for your website released
Download infographics about your Review Gathering performance in various formats and styles released
Friday 7th October 2022
Returning User statistics released
Gender breakdown of verified users
Minor updates to dashboard UI on Google Chrome
Fix for the colour of buttons on the Additional Login Question
Tuesday 4th October 2022
GetResponse integration released
Updates to email activation emails
New French translations uploaded
Back end optimisations to improve dashboard speed
Thursday 29th September 2022
TikTok remarketing integration released
Snapchat remarketing integration released
All-time review statistics now visible by default in dashboard
Update that all venues do not load on login for larger accounts. Improves dashboard speed.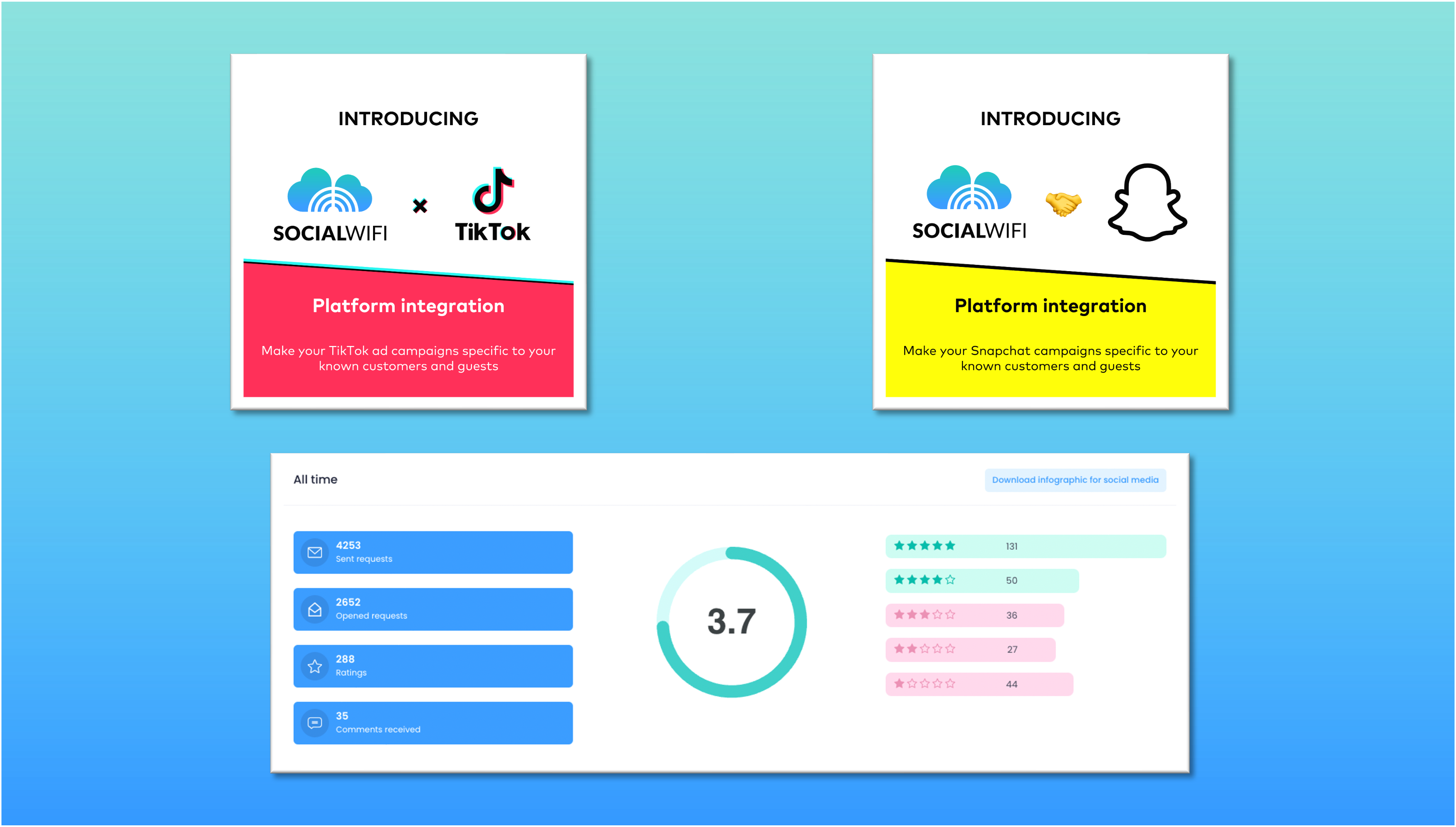 Friday 23rd September 2022
Time zones released. Data and statistics reflect the local time of logins and no longer UTC
Mailchimp CRM integration released
Google Maps ID fix on Review Settings tab
Tuesday 20th September 2022
Returning rate from emails released. Calculate how many people returned after receiving a Social WiFi marketing email
Monthly reports downloadable from the Project tab
Minor statistics page updates

Tuesday 13th September 2022
Additional customisable questions on login pages now possible. Available on Pre-login Page, Login Page and Welcome Page
Want to learn more?
If you would like to learn more about these new functions from Social WiFi, please contact your existing Account Manager or write to us at support@socialwifi.com
You can also find out more by visiting the Social WiFi Academy and searching for the relevant update.
Join Social WiFi
Setup isn't difficult. Social WiFi is compatible on most major hardware providers.
It takes minutes and we will be happy to help if needed!
14 days free

Easy setup

Cancel anytime