Only resell the very best
Create a recurring revenue stream by solving real client problems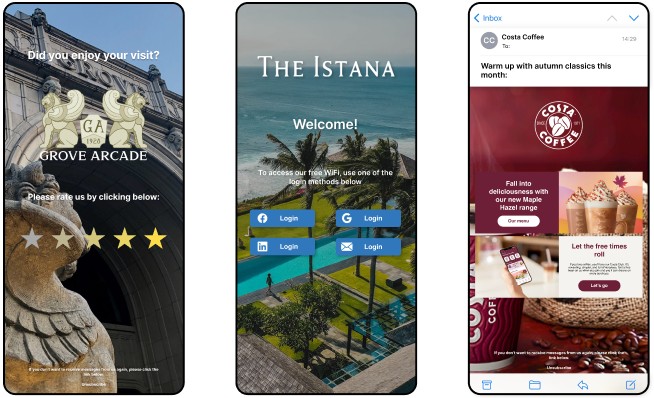 Why resell Social WiFi?
Since 2013, we've been leaders of WiFi Marketing technology and continue to lead the way helping the marketing efforts of brick-and-mortar businesses like Hotels, Restaurants and Malls.
Our team serves clients and partners across all time zones and prides itself on providing the best service on the market. We'll onboard you to make sure you can provide the best experience for your clients.
Through our Partner Program, you can create a monthly revenue stream and build deeper relationships with your clients by solving their biggest problems, notably telling them who their customers are.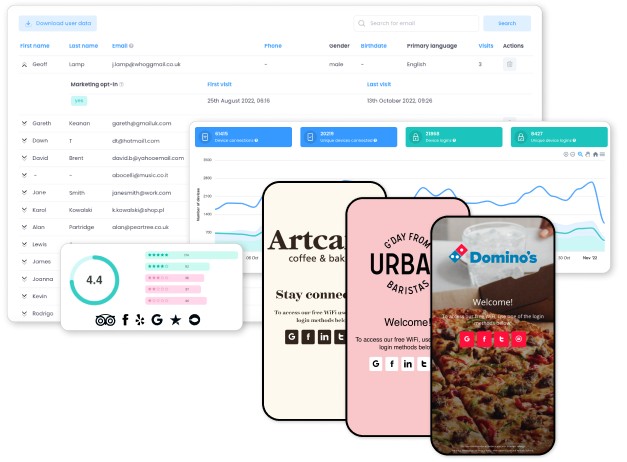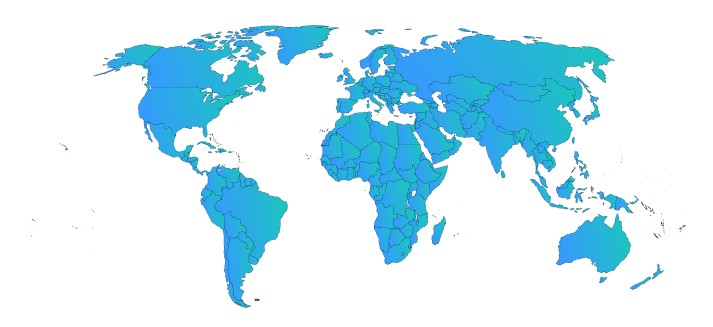 Thinking global - Acting local
Businesses grow through relationships and that's why we strive to provide the best service and support in the industry.
From our four global offices, we supply more than 90 countries around the world and treat clients and partners like they're a local client. We always aim to put the paying customer first, which means supporting our reselling partners too.
Recurring revenue
Grow your business by earning between 30 and 50% of the revenue your client pays for the lifetime of their subscription.
Easy setup
Social WiFi directly integrates with more than 15 enterprise WiFi hardware vendors and setup is clearly documented to make setup easy.
Leading support
From sales, to customer success, to technical support, our team is to help you and your client get the most from WiFi Marketing.
Global coverage
Wherever you have connectivity, we can supply your clients. Social WiFi us present across all time zones with servers in the Google Cloud.
Sales consulting
You winning business is also won business for us. We'll support where needed to make sure you get your deals over the line.
Marketing materials
You're new to this, but we've been doing it for 10 years. Don't reinvent the wheel and make use of our sales materials to win your deals.
Countless integrations
Using other marketing systems? We integrate with many and have an open API. And we partner with the best hardware brands.
New ideas
If you have new ideas for our system that will benefit your clients, let us know and we'll check them out.
Manage all your clients from a single dashboard login. Built for individual customisation and global scale
Join Social WiFi
Setup isn't difficult. Social WiFi is compatible on most major hardware providers.
It takes minutes and we will be happy to help if needed!
14 days free

Easy setup

Cancel anytime
What commission will I receive?

We reward resellers on their volume of sales. A fully qualified reseller will start at 30% discount and can achieve 50% discount if they reach certain targets.
Do you offer white label?

No. The user login system is white label, but the management dashboard is hosted on Social WiFi's domain.
How do I qualify as a reseller?

Generally, you need to be from the field of IT or Marketing and have at least 5 active clients with the service to qualify for discounts. We do consider applications from other sectors and from newly formed businesses and entrepreneurs.
Can I have exclusivity in my region?

No. We do not offer any exclusivity to any partners or resellers.
Do you provide training and marketing support?

Yes. When you start, you and your clients will have access to the Social WiFi Academy which guides you through almost every aspect of the service. You will also have access to our technical support team if needed and a dedicated Account Manager.
Do my clients pay you, or me?

You are responsible for billing your clients, and Social WiFi will invoice you every month for your active licenses.
Do I still pay if my client doesn't pay me?

Yes. If a client doesn't pay you, we can disable the service, but you are responsible for their billing and managing the client relationship.