Stadion Gdansk supplies smart WiFi for over 40,000 fans
Thanks to Social WiFi's assistance, Energa Stadium in Gdansk became the first football arena in Poland to utilise smart WiFi as a part of its marketing communication.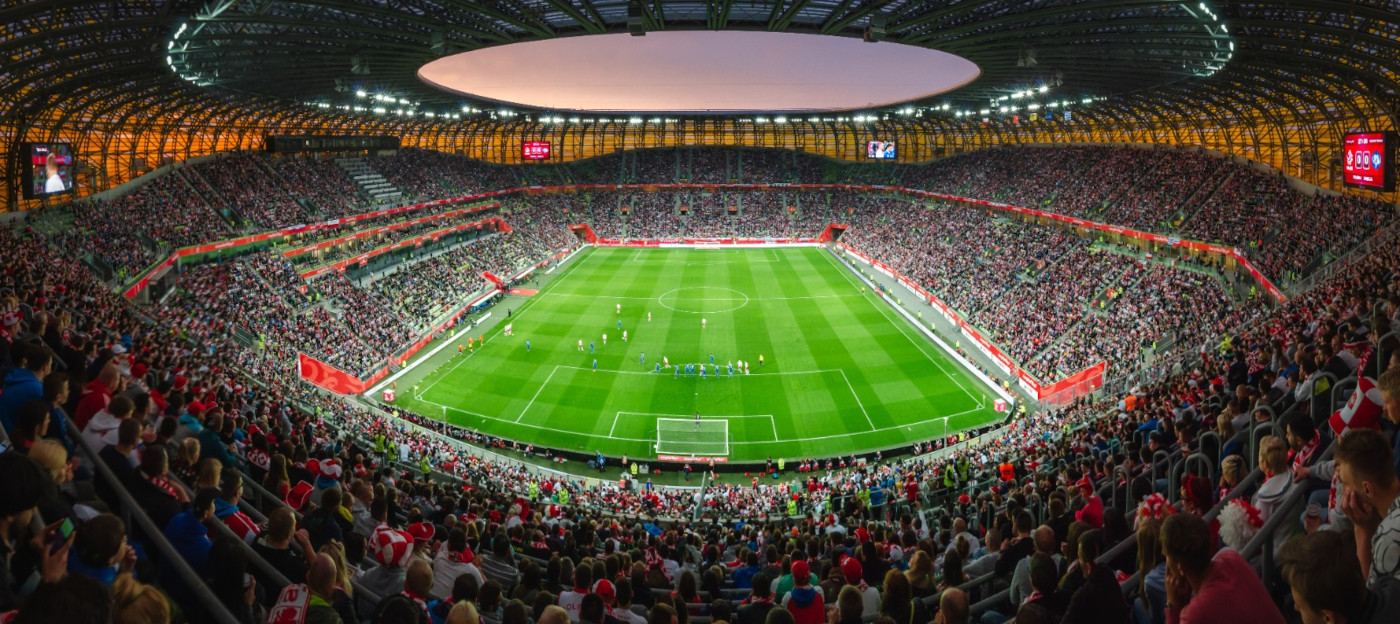 About
With a capacity for over 43,000 spectators, Stadion Gdansk is in the fourth largest stadium in Poland and mostly used for football matches.
Background
Stadion Gdansk has an evolving name as it sells naming rights to sponsors. The venue started out names as the Baltic Arena but became known as Energa Gdańsk in 2015. As part of the arrangement, stadium WiFi was considered for sponsorship and as a result, a provider of solutions that could display branded and sponsored WiFi captive portal's was required.
The Challenge
Venues with capacities like Stadion Gdansk generate a lot of WiFi network traffic in a very short period of time. In the majority of networks, you can expect a lot of people to use the network across a month, but in a stadium or arena, you can expect the same amount of people accessing within the same two-hour period.
This puts a lot of stress on the physical infrastructure inside the stadium, and on the cloud servers that maintain the Social WiFi service. For Social WiFi, there was a challenge of ensuring we had capacity to authenticate 40,000+ devices in a short space of time.
For the stadium operators, they wanted a sponsored and branded WiFi network with information shared to users about things to do and upsells for people while on the site.
The Solution
Implementation of the service was not a challenge due to the existing WiFi service that existed at Stadion Gdańsk. The stadium is so newly built that WiFi was a service built in at the planning stages and some of the best enterprise equipment was installed.
We were mindful that while the sponsor of the network would remain the same, the messaging would need to change for every event hosted at the stadium. For example, one day Lechia Gdansk could be playing a football match and the following day there could be a business event. The information that a user would see on the Welcome Pages would need to be easily updatable.
Social WiFi's web based dashboard allowed the Communications Department to update with the relevant event information, offers and key information for visitors any time from any computer. Training was provided to allow this process to be self sufficient and efficient for the team on site.
After logging into the WiFi, all of the stadiums visitors received an information such as the line-up, basic information regarding parking lots situated near the stadium, a map and useful guidelines regarding city transport and taxis, allowing them to have access to those materials on their smartphones at all times.
As it is also a place for conferences, the host can display any information necessary for the participants on the Welcome Pages. Additionally, after logging in and using the Social WiFi data capture tool, visitors can receive additional materials after the conference ends.
25,000+
connections at peak times
200,000+
splash page views
The Result
Stadion Gdansk's guest network handled over 25,000 connections at peak times.
Every connected user got detailed information about the ongoing event - the splash pages were viewed over 200,000 times.
Once Social WiFi had been proven to be able to withstand tens of thousands of simultaneous visitors, we focused on boosting the customer experience. With both the Stadion Gdansk and its customers satisfied, we believe it's just a matter of time before more large sports venues decide to go forward with this sort of an innovative customer-centric solution.
Karol Nowalski COO of Social WiFi
Every year, Stadion Gdansk is visited by hundreds of thousands of people. Now, thanks to Social WiFi, they can all have quick and easy access to current information, special offers, and, most importantly, smooth wireless Internet connection.
Join Social WiFi
Setup isn't difficult. Social WiFi is compatible on most major hardware providers.
It takes minutes and we will be happy to help if needed!
14 days free

Easy setup

Cancel anytime