Social WiFi in Hotel Bania Thermal & Ski
WiFi in a hotel is now standard. According to statistics, 94% of people consider WiFi to be one of the most important attributes of a hotel, and as many as 38% of guests find the lack of WiFi unacceptable and will be willing to book a room at another hotel if it is not available. Hoteliers who move with the times, however, know that WiFi can be a benefit not only to Guests, but also to themselves. This is well known to the owners of Hotel Bania **** Thermal & Ski, among others, who use Social WiFi.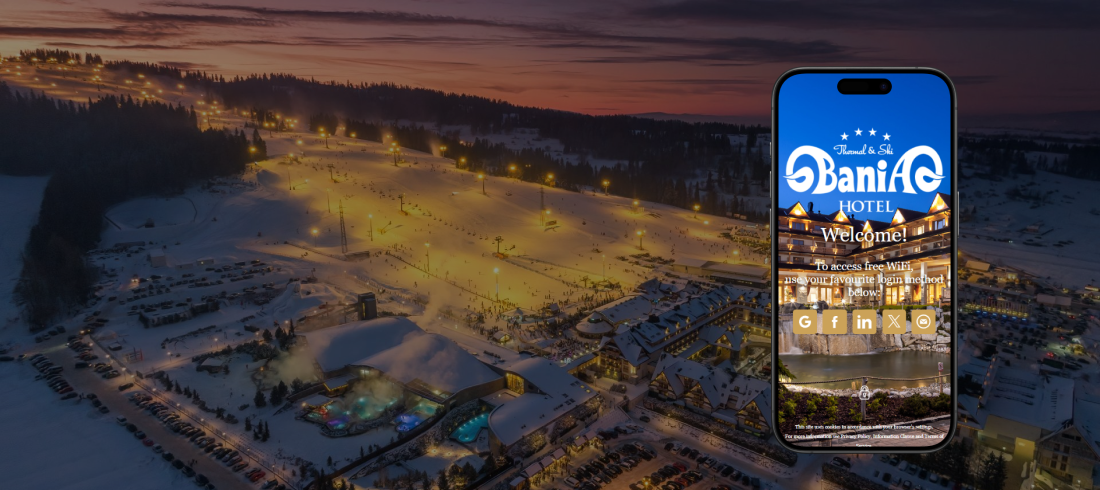 Hotel Bania**** Thermal & Ski to a famous facility located in Białka Tatrzańska, at the highest ski complex. The hotel combines a highland climate, a thermal pool and a skiing paradise in one place. The facility has 156 rooms, as well as a bar, restaurant and the Bania Club, well known to tourists. The infrastructure in the vicinity, as well as in the hotel itself, is comprehensive and with the utmost attention to detail. Leaving the hotel leads directly to the thorough preparation of the slopes, right next to it you can also find ski teachers, a sports equipment rental or a winter zone for children. Hotel Bania is a facility with accommodations for families, but also a place for organizing business meetings, company integration trips and conferences. The hotel has Terma Bania thermal pools, which are their own sauna, offering a SPA offer.
Social WiFi turns ordinary WiFi into a modern analytical and marketing tool, enabling, among others: displaying messages during use, sending e-mails, collecting opinions using the five-star system. The main tool in the HoReCa, retail and indoor-outdoor events. The platform is integrated, among others: with SALESmanago, FreshMail, TripAdvisor, Facebook and Profitroom tools. Hotel Bania**** Termy & Ski has been using Social WiFi since mid-April 2016. Over the course of two and a half years of operation, the benefits of using the tool have been extensive - over 7,200 people have logged in to WiFi for ten years.
– Social WiFi allows us to identify our Guest via WiFi. The guest logs in to the WiFi network using e-mail or a social media account. When our hotel has left a trace - you can contact it even after your departure and reach forward. Thanks to the fact that we collect Guest data, we can then be available through mailings and remarketing - displaying our advertisements while browsing other websites. Thanks to this, we can direct our marketing message only to people who are actually interested in it. – says Wojciech Sadowicz, e-marketing specialist at Hotel Bania **** Thermal & Skis.
Hotel Bania with the ability to use almost all Social WiFi keys:
1. Data collection
During 2.5 months of Social WiFi operation, over 7,200 people logged in to the Bania Hotel network. All data is collected in the management panel, which can be accessed by owners, element managers and selected staff members. At the Bania Hotel, 70% of people logged in using their postal address, and 30% when using social networking sites - so that these data provide us with a picture of the demographic structure of users by gender and age. Thanks to intelligent WiFi, the hotel owner managed to obtain over 5,000 e-mails - a very large number in a short time (approx. 2,900 e-mail addresses). Owner owners, how many of the people who log in return - in the future, identification of returning customers may be available in their information program. Social WiFi collection also includes data regarding the gender of people who log in - which may be particularly specified when sending mailings.
2. Welcome screen
After logging in to the WiFi network, the so-called welcome screen. From this level, guests can use the hotel and like the facility's fanpage on Facebook. Additionally, the person managing the panel can appear on the touch screen or an additional screen. The owners of Hotel Bania post information about the hotel's offer here, including: about the restaurants and shops located on the premises and about the Bania Club.
3. Welcome mail
Research shows that 54% of hotel guests, after logging in to WiFi, look for attractions in the area and information about the hotel's offer, which is why Social WiFi is a welcome email. Each guest who logs in to the WiFi at the Bania Hotel receives the so-called welcome email. The owners provide access to each guest in ten ways and immediately present a schedule of attractions throughout the week. During the protected period, there are attractions such as cinema nights, children's competitions and events, feasts and bonfires. Thanks to this, each guest has a schedule at hand and can be there at any time.
4. Mailings
The addresses of each guest who logs in to Wifi appear in the Bania hotel's mailing content.
Over 2.5 months, the hotel collected approximately 5,000 e-mail addresses. This is a powerful number, the main person who has been to the facility before - it means that they are 100% part of the target group. Due to the fact that mailings are sent to people who have actually stayed at the hotel, the open rates are much higher than in the case of sending e-mails to a database collected in a newsletter or to a purchased database.
Logged in people: 7,200
Collected emails: 5,000
Number of ratings: 620
Opinions collected: 160
5. Remarketing
Every person who uses the Internet at the Bania Hotel launches a web browser on their device. At this point, it is "cooked" even before logging in to Social WiFi. By collecting such data, the hotel owner can display its advertisements to these people in the future while they browse various websites. Thanks to this action, you can remind yourself from time to time in a non-obtrusive way and encourage you to come back.
6. Ratings and opinions
Social WiFi has a built-in satisfaction assessment system - the so-called star system. After leaving the Bania Hotel, guests receive e-mails asking them to rate their satisfaction with their visit on a scale of 1 to 5 stars. They can also leave their spontaneous opinion. Over 2.5 months, over 620 people left a rating for the Bania Hotel, and 160 of them also left a verbal opinion. The star system allows you to collect a large number of spontaneous, reliable opinions - respondents are not rewarded in any way or forced to express their opinions, so these opinions are true. This method is therefore much more effective than traditional telephone or online surveys.
An additional advantage of the star system is integration with the TripAdvisor opinion-forming portal. 2 days after leaving a star rating, guests of the Bania Hotel receive an e-mail encouraging them to leave their opinions also on this website. Thanks to this integration, the number of ratings increases significantly, which positively affects the perception of the hotel by Internet users, builds its credibility and increases its rating.
– For us, the most important functionalities of Social WiFi are the star rating system and integrations – with TripAdvisor and Freshmail. We simply encourage our guests to leave their opinions on a website that is important for our image. Moreover, thanks to Social WiFi, everything is automated, which is very important with so much data. Thanks to this, we get to know the expectations of our guests better and we can develop in the right direction - explains Wojciech Sadowicz.
Profitoom is the official distributor of the tool on the Polish hotel market.
Join Social WiFi
Setup isn't difficult. Social WiFi is compatible on most major hardware providers.
It takes minutes and we will be happy to help if needed!
14 days free

Easy setup

Cancel anytime