WiFi for inclement weather! Networking in holiday homes is the new standard
The Hel Peninsula is a 34 km long, narrow strip of sandy land, surrounded by the Baltic Sea to the north and the Bay of Puck to the south. Pod Cyprysami, a surf & family resort, was created in this unique location.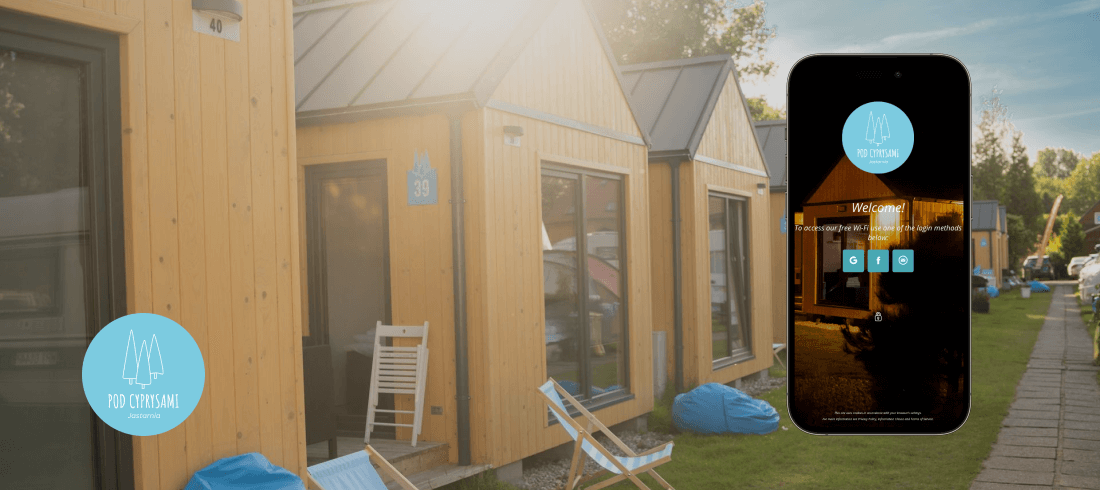 About the client
Hotel & Resort by the sea
Background
The Go4Sport Group creates unique places dedicated to people who like to relax in premium summer houses near swimming areas (sea, lake). Pod Cyprysami - surf & family resort is a recreation center located in Jastarnia, open from April to November. The resort is intended for families with children and enthusiasts of water sports (wind, kite, surf) and hiking or cycling trips. To ensure a comfortable stay for guests and the possibility of remote work, Pod Cyprysami Management has provided fast WiFi.
Challenge
The challenge for the facility was to expand marketing activities based on the database. Ultimately, they wanted to improve communication with guests to build the presence of their brand in their minds. Thanks to this, guests would return to the Pod Cyprysami resort as well as to other facilities in the Go4Sport group. In today's digital world, developing a business requires the use of modern tools and strategies. The "Pod Cyprysami" holiday resort perfectly understood the importance of innovation and interaction with guests. Its key to success turned out to be the Social WiFi system - a versatile tool that contributed to a significant increase in attractiveness, sales and customer satisfaction. Thanks to the collected data, "Pod Cyprysami" was able to send personalized emails providing information about special offers, upcoming events and attractions in the area. This made guests feel appreciated and interested, and the resort had better control over marketing communications.
The facility also noticed other benefits. The Social WiFi system enabled "Pod Cyprysami" to collect reviews from its guests. After completing their stay, guests were encouraged to leave their opinions about the resort. This not only provided valuable guidance, but also built trust through transparent communication and openness to customer feedback. Integration of the Social WiFi system with a platform such as TripAdvisor helped "Pod Cyprysami" to gain positive reviews also on external websites.
Solution
Cooperation Social WiFi helped the "Pod Cyprysami" recreation center not only retain existing guests, but also attract new ones. Thanks to a more personalized experience, more effective marketing and the use of the Facebook pixel, the resort managed to increase its visibility, reputation and income, becoming a unique destination for all those looking for holiday adventures and relaxation in Jastarnia. Data collected using the Social WiFi system provided "Pod Cyprysami" with valuable information for analysis. The center could monitor the effectiveness of marketing campaigns and other key metrics. Thanks to this, he was able to make better-informed business decisions, improving the quality of services and increasing customer satisfaction.
Result
Integration with Social WiFi has enriched the existing customer base with over 5,000 email addresses acquired within twelve months. Additionally, the facilities belonging to the group have gained a tool for mutual promotion, and the competitiveness of the Pod Cyprysami resort has increased compared to other facilities on the Hel Peninsula.
"Social WiFi is an ideal solution for summer houses. From the beginning, Social WiFi Support supported us in planning and building the network. Today, after over 18 months of cooperation, we see real results from marketing activities and we include our next resorts."
Join Social WiFi
Setup isn't difficult. Social WiFi is compatible on most major hardware providers.
It takes minutes and we will be happy to help if needed!
14 days free

Easy setup

Cancel anytime