How to do restaurant marketing the exemplary way? - ORZO knows!
ORZO restaurants, located in the largest Polish cities - Poznań, Wrocław, Kraków and Warsaw - stand out from the numerous competition on the dynamic gastronomic market. Attention to every detail, both in terms of the appearance and atmosphere of the restaurant, as well as in the case of high-quality ingredients and refined dishes, is a key element of their success.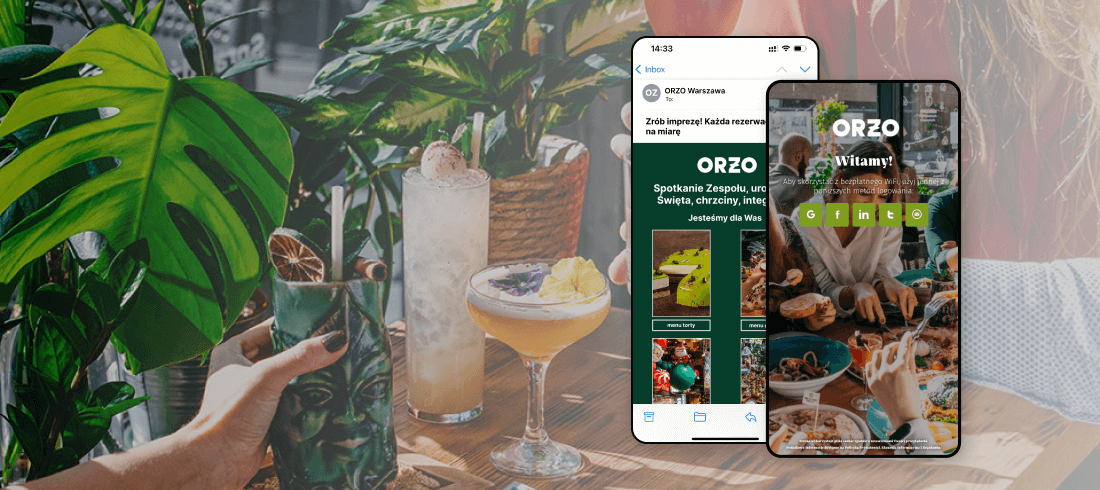 We don't have to introduce this restaurant brand to you... We invite you to read the ORZO case study. Since 2018, ORZO has been a Social WiFi client.
Behind the success of the ORZO restaurant is not only an exceptional chef, but also a well-thought-out marketing strategy, which is crucial in effectively reaching potential customers.
About the client
The chain of green restaurants includes five premises in Warsaw, Kraków, Poznań and Wrocław. They are very popular among people looking for interesting flavors.
Industry
Restaurant chain
Background
The success of a restaurant chain consists of many factors. The concept of the ORZO restaurant is based on creating a place for everyone, where you can try tasty food at affordable prices, surrounded by plants that purify the air and a unique interior design. First of all, ORZO is a recognizable brand.
Challenge
For ORZO, one of the key issues was the relationship with the client. The challenge was to take action to make customers satisfied with the level of the restaurant and want to come back to it.
Solution
As part of the Social WiFi system, customers who use the Internet network available in the restaurant receive special offers, information about products and services or incentives to join loyalty programs. The result of our cooperation is the ability to reach ORZO customers in a personalized and effective way by collecting their data and analyzing their behavior.
This allows for an even better adjustment of the offer to their needs and preferences. Restaurants can stay in constant contact with the customer, while maintaining the privacy and security of customer data to avoid breaching their privacy.
105
negative ratings blocked
Effect
These actions have brought great results. Restaurants recorded a significant increase in the number of customers who joined the loyalty program, which contributed to even greater brand loyalty. ORZO also used the data collected as part of the WiFi marketing program to improve the quality of customer service.
By analyzing customer reviews, the company can identify issues and make improvements to the service process, which increases customer satisfaction and contributes to even greater brand success. The key to success is to personalize communication, collect and analyze customer data and continuously optimize processes based on campaign results.
"As an agency dealing with comprehensive marketing activities for the Orzo restaurant chain, we were looking for a solution that would provide us with central collection of data about network users in various locations and would act as a loyalty system and enable effective email marketing. "
"Social WiFi turned out to be the solution. Thanks to this innovative solution, we can now acquire, analyze and use data to increase guest engagement and effectively reach them through personalized email marketing campaigns."
Join Social WiFi
Setup isn't difficult. Social WiFi is compatible on most major hardware providers.
It takes minutes and we will be happy to help if needed!
14 days free

Easy setup

Cancel anytime