Ocean Basket nets huge amount of data
One of the biggest seafood chains in South Africa, the brand expanded to Mauritius with 3 restaurants and looked to Social WiFi for data capture.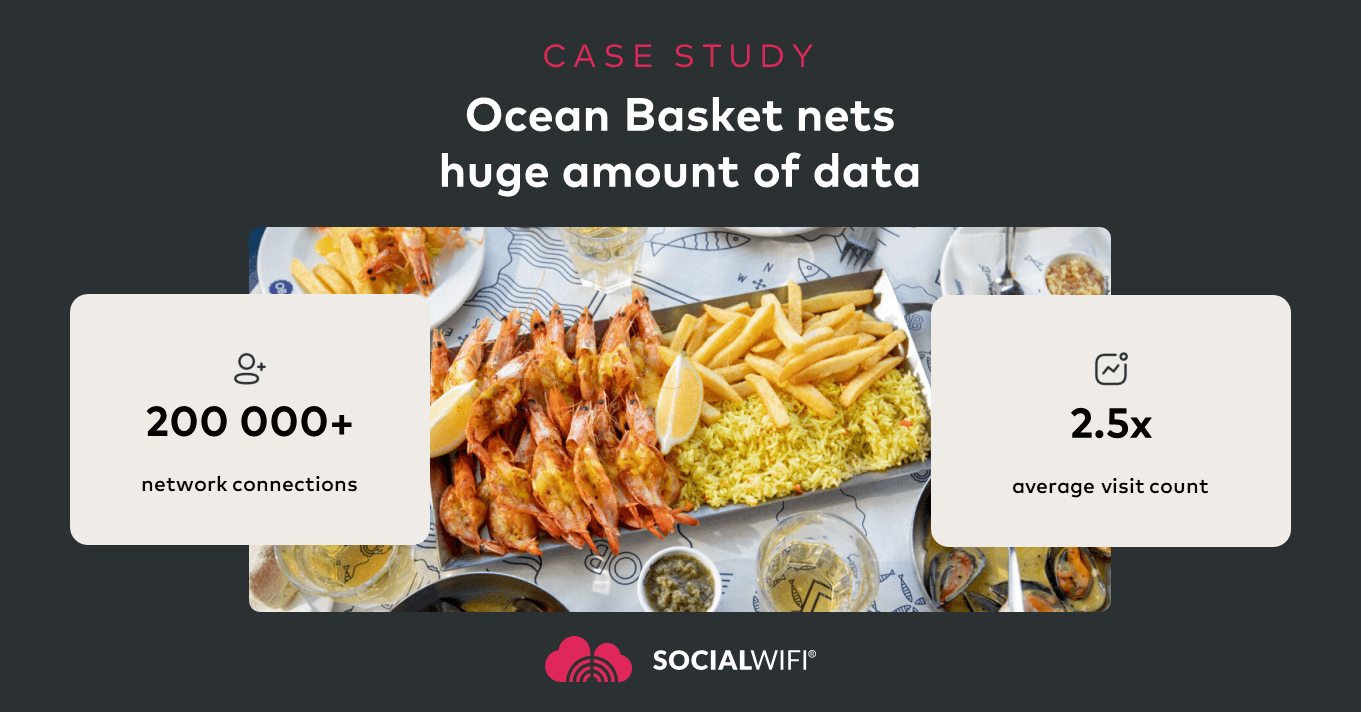 About
A chain of over 200 of seafood restaurants in 19 countries around the globe.
Industry
Restaurant Chain
Country
Global - Mauritius
Background
In 2019, the franchise owners of the brand in Mauritius looked to Social WiFi to help their marketing team with gathering customer data and some automation tools to help with the retargeting.
Social WiFi already worked with the owner on another of their brands (a private members club) and wanted to explore how we could provide a benefit to the sit-down restaurant sector.
The Challenge
Firstly, we had to work seamlessly with their existing WiFi equipment. Importing new hardware easily and cheaply can be difficult on a remote island in the Indian Ocean. But with the IT Manager having previously installed Ubiquiti Unifi Access Points, that was never going to be an issue due to our long standing partnership.
Each restaurant needed to have its own customer database and staff from each restaurant would need access to the database for their restaurant, but not any other restaurants. Furthermore, the Marketing team would need to have access to all data across all restaurants.
The collation of data must be easy for all of the teams so that it can be easily managed in the relevant databases without requiring large amounts of man-hours.
Unknown to us at the time though, was Covid-19, which became a challenge in terms of flexibility of payments and attracting customers back to the restaurants after lockdowns ended.
The Solution
Once we'd established that Unifi Access Points were in place, the setup was easily completed by the IT Department by following our step-by-step instructions in the Social WiFi Academy. Because of Social WiFi's direct integration with the Unifi ecosystem, the team were able to configure all 3 restaurants remotely.
Social WiFi took control of the login page building and branding process by taking artwork from Ocean Basket's website and putting them into the WiFi page framework. This saved the marketing team the time of learning the system and got things completed faster. As data was important, a login page allowing Facebook, Twitter and email signup was implemented.
Using the flexible permissions function which already existed in the Social WiFi platform, managers and staff at each restaurant has their own access to databases and their permissions to read and edit can be flexible based on their roles in the business, providing an added layer of security for the Senior Management.
Covid-19 was also a big hit for the brand because its target market was severely affected - changed customer behaviour and reduced purchasing power- by the closure of borders and reduced activity in the tourism sector. We were able to support Ocean Basket with payment suspensions during closed periods and shared ideas throughout for how to utilise the customer data during lockdown and upon reopening.
200,000+
network connections
20,000+
confirmed email addresses
The Result
Despite a global pandemic and downturn in trade in 2020, Ocean Basket has still seen large amounts of customer data flow into their CRM systems to help their marketing team. With 21,000 emails in the database, there was no way the team would know who so many customers are before installing a WiFi Marketing service.
It was also helpful for the team to see that the average customer visits 2.5 times, giving them a level of insight into customer loyalty.
Join Social WiFi
Setup isn't difficult. Social WiFi is compatible on most major hardware providers.
It takes minutes and we will be happy to help if needed!
14 days free

Easy setup

Cancel anytime