Largest shopping complex in Europe boosts sales with Social WiFi
Manufaktura in Łódż, Poland is one of Central Europe's largest shopping complexes, located within an old fabric factory dating back to 1835. After its reopening, following a EUR 200 million redevelopment, they installed Social WiFi to better their customer experience.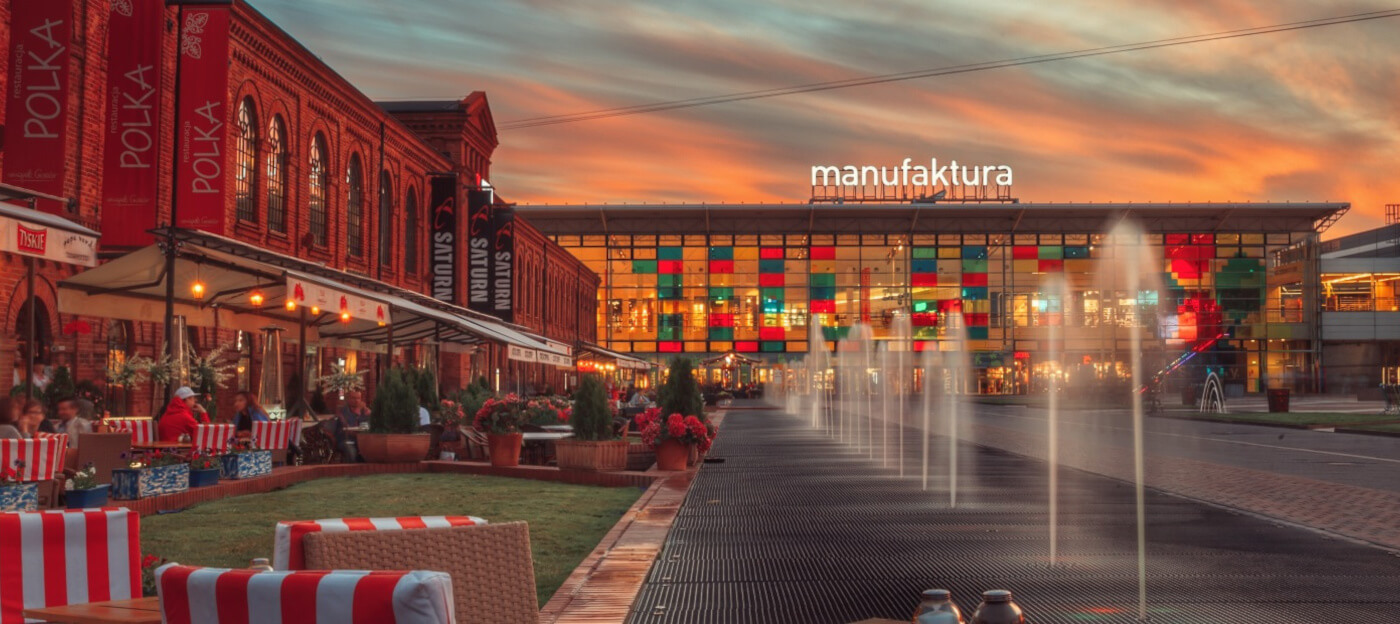 About
An icon of historic redevelopment. Once a huge fabrics factory, it is now a massive space for arts, shopping and leisure.
Industry
Retail - Shopping Complex
Background
The operators of Manufaktura, Apsys, recognised that customer WiFi was a necessity and to a large extent, an expected utility. They wanted to generate something in return for themselves though following an expensive infrastructure fit out across 67 acres (over 50 football fields).
As Manufaktura and Social WiFi are both Poland based businesses, there was already a connection between the two companies and they requested ideas a proposals on how they could generate a return on their investment in the customer WiFi network.
The Challenge
Several were raised by the Manufaktura team during early discussions ranging from data privacy to tracking revenue generated. Discussions began before the introduction of the GDPR in Europe and therefore this was a very hot topic.
There was also the challenge of infrastructure. They had already spent a great deal of money on enterprise hardware across a vast area, so replacing this was not an option. If Social WiFi was to implement at Manufactura, then the service would have to work seamlessly with their existing hardware.
Monetisation was of course the key factor. Why add more cost without generating any returns? Of course, a guest WiFi network doesn't know how much a customer spends in a venue, so alternative measures of return would have to be considered and implemented.
The Solution
The issue of GDPR compliance was a very simple process because Social WiFi had already heavily planned for this prior to its release. Likewise, Apsys and Manufaktura had planned their processes, so it was a case of aligning the two and creating a customer process that was easy to understand and looked simple to use.
Working with their IT infrastructure provider, it was decided to implement on a MikroTik router to handle the guest authentication completely independent of all other traffic. A relatively small investment in one new router meant that everything could be connected to the wider and very large WiFi network while not impacting any other business critical operations running through the existing WiFi router. MikroTik is a very popular solution for large WiFi networks and is able to connect to any brand of WiFi access points with a simple set of instructions.
In order to monetise the WiFi network, Social WiFi developed some new features allowing Manufaktura to display personalised ad content on connection. Tailored to factors such as age, gender and day of the week, Manufaktura is able to push banner adverts to WiFi users that would be most appropriate to them. Moreover, they were able to sell this advertising space directly to their Shopping Mall tenants.
Expanding on this idea, the embedding of Facebook Pixel's and Google Cookie's on all pages meant that Manufaktura and network sponsors could target shoppers with their ads after login, tying up the offline and online sales experience into one.
As always with Social WiFi, the network and all mailings was fully branded and review gathering and feedback management was a component utilised by the business operations teams.
500,000+
splash page views
1,500+
remarketing triggers daily
The Result
With an average of over 1,500 remarketing triggers on a daily basis, Apsys provides a great support for the marketing campaigns of Manufaktura's tenants.
What is more, since the implementation, Manufaktura has collected over 1,000 5-star reviews, proving once again that boosting the customer experience pays off.
We are delighted to work together with Manufaktura. It is an iconic place in Poland and a gem of the Polish retail sector. Social WiFi is a valuable tool in the hands of Manufaktura's marketing department, allowing them to effectively communicate their tenants' offers to the customers and conduct sales campaigns targeting known customers at a time relevant to them. The volume of logins and customer data they have received is fantastic and certainly adds to the customer experience.
Paul Webster CEO of Social WiFi
Manufaktura is not only a shopping center, but also includes entertainment and cultural facilities. Smart WiFi allows us to promote both our tenants and, what is equally important to us, Manufaktura itself, along with its events and attractions.
Join Social WiFi
Setup isn't difficult. Social WiFi is compatible on most major hardware providers.
It takes minutes and we will be happy to help if needed!
14 days free

Easy setup

Cancel anytime