Jump Xtreme database springs to life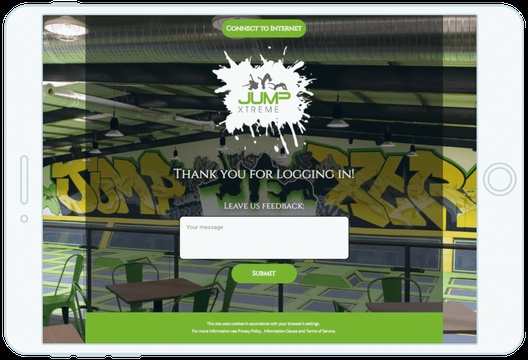 Problem
Cliff Nicholls, Managing Director of Jump Xtreme in the UK wanted a system to help him know who his visitors were and assist him in communicating with them during and after their visit.
As a leading attraction in England for children's play, as certified by TripAdvisor, Cliff wanted to go further and have more ability to convert those customers who were happy with their experience into returning visitors.
x2.5
faster review gathering
Solution
Social WiFi created a uniquely branded login experience for the visitors of Jump Xtreme that made users more comfortable about accepting into GDPR regulations. Because the login system looked and felt 100% like the venue they were in, users felt confident that they were not opting in to communications from other third party businesses.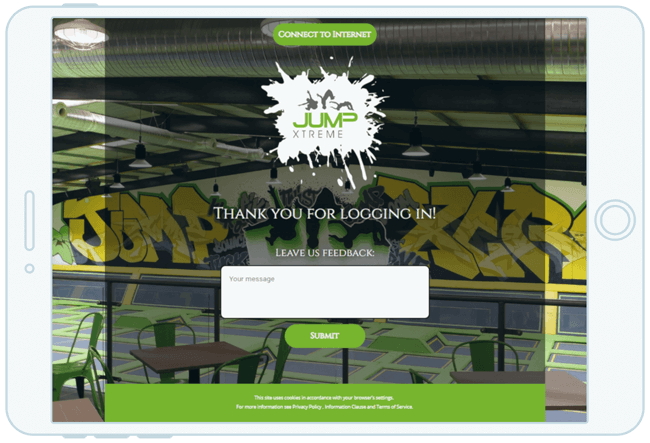 Aside from gathering contact data from the visitors of Xtreme Jump, a feedback mechanism was added to the Welcome Page, giving parents the opportunity to raise any issues that they may have had and therefore giving the Jump Xtreme team the ability to know about problems faster. In an environment where children are playing at a high intensity, it was important to gather any feedback about any aspect of the experience and environment. Feedback was instantly sent to the management team of Jump Xtreme and they also had the ability to reply directly to the user through the Social WiFi dashboard.
Outcome
In the first six months of the service being in place, Jump Xtreme had over 2,100 unique users and received feedback through the welcome system from 88 of these. The increase in database records for Jump Xtreme has helped them remarket to the parents that brought their children to play and promote some of the biggest events, especially during school holidays.
I looked at a number of solutions before selecting Social WiFi. We had existing hardware in place so it was important that the solution would work with requiring expensive hardware replacement. I am very pleased the with the Social WiFi solution, the team were very helpful on implementation and it has delivered exactly what we wanted in terms of helping us to improve customer engagement and data capture. I would not hesitate in recommending Social WiFi to others.

- Cliff Nicholls, Director of Jump Xtreme