Online reviews soar high on the Baltic coast at luxury hotel
The city of Gdansk is a must visit city for travellers exploring central Europe. The port town on the Baltic coastline is historically famous for many reasons, but most notably as the place of the first attack in WWII. The Neptune Fountain is also an iconic and famous attraction seen the world over.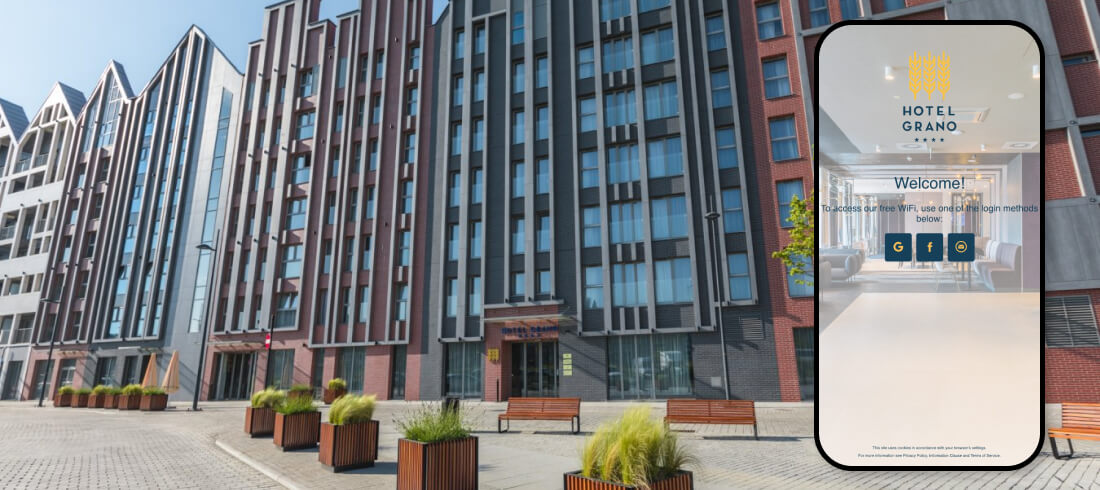 Today, Gdansk is a highly cosmopolitan city with many cultural delights and an excellent place for those looking to find wonderful bars and restaurants. A city of many rivers and islands, Grano Hotel is located on one where the city granary used to be located, a crucial location in ancient trade.
About
Located on Granary Island of the historic city of Gdansk, this high-end hotel is a popular choice among travellers.
Background
As part of a hotel group, Hotel Grano offers a range of high-end services beyond the usual you would expect from a top hotel. Their spa and business facilities are also some of the best regarded. Their management team work hard to incentivise direct bookings through their website and app in order to maximise revenues.
Gdansk is a competitive city for hoteliers and post pandemic, the competitive situation was even greater. Like most businesses at this time, access to past customer data was vital to refill the void. Looking to the future, acquiring more contact points in order to follow up with promotions and events was essential. Hoteliers could no longer rely on OTA rankings to fill their rooms.
The Challenge
Being a business hotel as much as it is a leisure and spa hotel, quality of WiFi is one of the key elements essential for guest satisfaction. To this point, Hotel Grano already had an extensive and large WiFi network built with hardware from Ubiquiti UniFi. With over 60 UniFi access points already deployed across the hotel, hardware replacement was out of the question.
Also, as a luxury brand, the look and quality of the WiFi system had to match the high standards displayed in all other parts of the hotel. It was very important to maintain presentation standards and ensure a guest experience that presents the brand.
Finally, the management team wanted to explore how negative feedback from guests could be handled so that they could contact the guest and put things right. While their reviews were generally very high, they were very interested to know how they could help those guests who felt that things didn't meet their expectations.
The Solution
The first place to start was analysis of the existing WiFi network. Social WiFi have a direct integration with Ubiquiti UniFi, so an installation with no extra hardware was possible. However, there was some reluctance to rely solely on this due to some firmware update issues by Ubiquiti that had caused problems in the past. While the risk of this happening again was low, it was recommended not to risk guest experience, as WiFi is so high up on guest needs.
A MikroTik router solution was implanted providing a rock solid setup that has served Social WiFi clients good for years. Simply by installing the router in the hotel server rack and connecting the Ubiquiti Access Points via VLAN got the entire hotel up and running with our service.
As with all Social WiFi clients, splash page branding was created by our team by taking imagery from their website and matching colour schemes. The result was an on point login and welcome experience that made the system look as though it was built in house, rather than by a supplier company.
Finally, the Reviews by Social WiFi function was perfect for Hotel Grano to get happy customers posting online and to gather more feedback from guests who were less than satisfied. Working on the needs and requests of the management team, feedback request emails were sent to guests 2 days after they left the hotel, which of course were fully branded to Hotel Grano.
Reviews by Social WiFi meant that anyone rating 4 stars and above were asked to post their feedback on TripAdvisor and Google Reviews. The guest could choose which they preferred. But importantly, anybody rating lower than this would be asked to leave private comments about why they are rating so low. This would create an inbox message for the guest relations team at the hotel to contact the guest, establish more information and try put things right.
The Result
Since January 2020 to today (November 2022), despite the Covid-19 pandemic and lockdown restrictions, Hotel Grano has seen over 21,000 unique email addresses gathered and added to their CRM. And because Hotel Grano utilises the API integrations with Profitroom and SalesManago (their external database providers), the data transfer was and is seamless.
In terms of review management, over 3,000 reviews were gathered as a result of requests sent by Social WiFi, with an average score of 4.5 coming back. This goes to show just how high the standards are at Hotel Grano.
Crucially though, Social WiFi managed to get more information from 331 guests who rated the hotel 3 stars or less. In doing so, it is hoped that this feedback was kept off the internet and handled privately by the hotel to put things right. Reputation management is a crucial part of Social WiFi and by keeping the low scores off the internet, we ensure that our clients climb the review site rankings and win more guests.
"Social WiFi has helped us first and foremost to keep in touch with our guests. We use this tool to send important and useful information about their stay and our current and future offers.
Communication is two-way, so our guests can also contact us if they have questions or want to discuss issues regarding their stay. Social WiFi gives us the ability to respond quickly and ensures that guests can keep in touch with us, feedback on whether they feel comfortable with us is very important to us.
This tool has also made it easier for us to automate the giving of feedback. After their stay, guests receive a message from us encouraging them to rate their stay. Because of the ease of giving feedback, we manage to collect more and more of them. Thanks to Social WiFi, we have managed to build up a broad mailing base, which is steadily growing."
Join Social WiFi
Setup isn't difficult. Social WiFi is compatible on most major hardware providers.
It takes minutes and we will be happy to help if needed!
14 days free

Easy setup

Cancel anytime