Upselling of services at the Belvedere Hotel thanks to e-mail marketing
Hotel Belvedere in Zakopane, Poland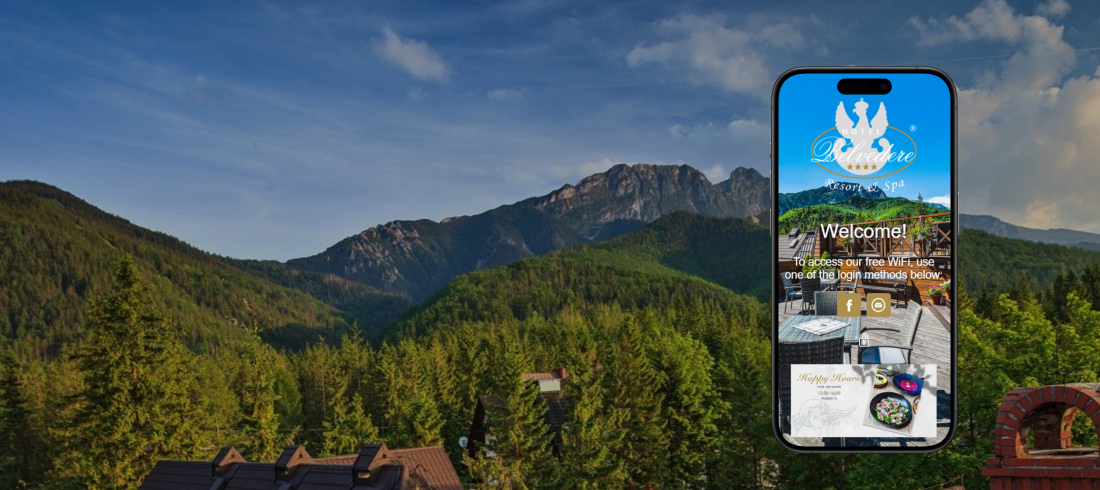 Customer
Hotel in Zakopane
Background
Hotel Belvedere Resort & Spa in Zakopane is an extraordinary place, surrounded by picturesque mountains, which attracts tourists with its unique atmosphere and high standard of services. However, in the era of technology and the constant development of online services, the hotel has noticed that guests' expectations regarding Internet access have increased significantly. To stand out from the huge competition, the hotel was looking for solutions not only in the form of additional SPA services, but also providing access to high-speed Internet. At the same time, there was a need to intensify marketing activities so that the financial outlays incurred for development could be quickly recouped.
Challenge
The main challenge for the Belvedere Resort & Spa Hotel was to provide guests not only with a fast and stable Internet connection, but also to create a new, innovative and comfortable login process. The hotel noticed that standard solutions not only do not meet guests' expectations, but also do not allow for effective collection of information about their preferences and habits. Moreover, the hotel was looking for an e-mail marketing tool that would ensure upselling of services and constant contact with guests.
Solution
The hotel decided to introduce Social WiFi as an innovative solution answering two key questions: how to improve the WiFi login process and how to collect and use data? When logging in to the WiFi network, instead of using a classic password, guests could log in to the network through their accounts on social media platforms. This not only made logging in more convenient, but also opened up new opportunities for interaction between the hotel and guests. Additionally, the hotel gained an analytical system that allowed it to collect data about guests and their preferences, e.g. on the FB platform.
Result
The introduction of Social WiFi brought immediate benefits to the Belvedere Resort & Spa Hotel. Guests were delighted with the ease of access to the Internet and the modern approach to communication. Thanks to the collected data, the hotel was able to adapt offers and promotions to individual preferences, which resulted in increased guest satisfaction. Positive online opinions, recommendations and an increase in the number of reservations have become visible effects of the introduction of Social WiFi. The Belvedere Resort & Spa hotel not only met the expectations of its guests, but also used a modern solution to build stronger relationships with customers and stand out in the competitive hotel market. The investment paid off in a short time.
"We have been cooperating with Social WiFi for over three years. A lot was happening in Between Time, both geopolitically and internally in our organization. Our customer base is constantly growing and converting into new bookings. Thanks to Social WiFi, we maintain constant contact with our guests and reward the most loyal ones."
Join Social WiFi
Setup isn't difficult. Social WiFi is compatible on most major hardware providers.
It takes minutes and we will be happy to help if needed!
14 days free

Easy setup

Cancel anytime