Hotel Bania with a mountain of data
An icon of the Polish tourism sector, Hotel Bania implemented a smart WiFi system to gather more momentum with online reviews and email marketing quality.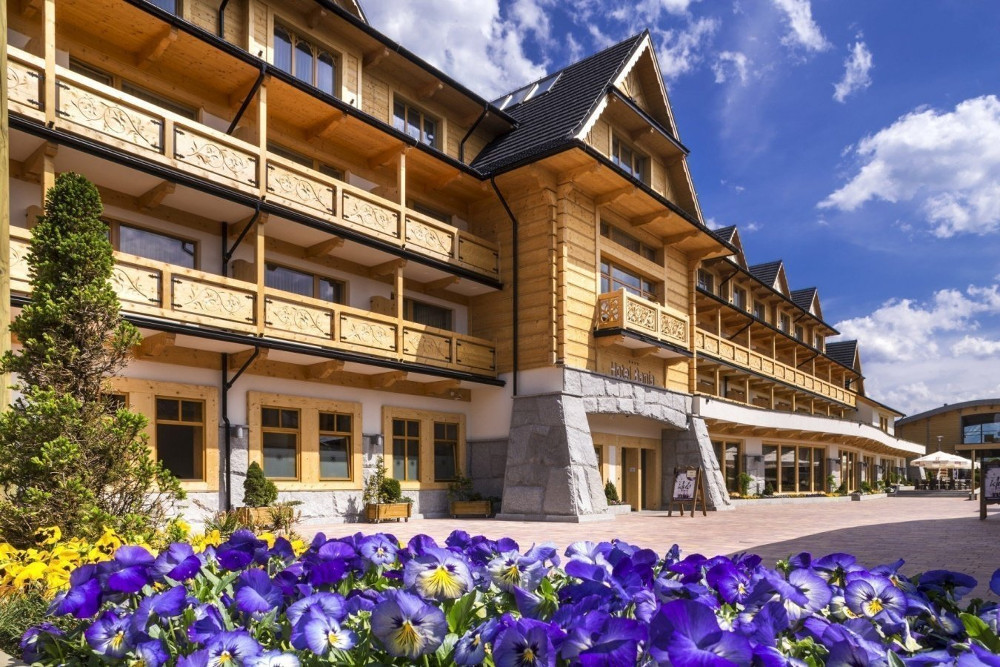 About
An upscale chalet style hotel in the Polish Tatry mountains offering more than just access ot the ski slopes. A water park and nightclub are just some of their additional offerings.
Background
The management of Hotel Bania had seen research that concluded, 94% of people consider WiFi to be one of the most important attributes of a hotel. While they already offered guest WiFi, they decided that they should invest in a higher quality network to provide a more reliable connection. Because of the vast area covered within the hotel, there wasn't full coverage.
In the same research, they'd seen that 38% of people asked considered poor WiFi offerings to be a red flag and a reason not to book. People seeing this information on online reviews would become hesitant to book a reservation.
This prompted a change within Hotel Bania and project was commenced to overhaul their networks.
The Challenge
Hotel Bania is a vast space with 156 rooms, multiple bars and restaurants, a nightclub, spa, water park and much more. And with direct access to the ski slopes, it would be fair to consider them to be a full mountain resort.
Covering such a space requires implementation of a large amount of hardware, which adds up to a lot of money. With WiFi hardware, you do get what you pay for, so the balance between costs and quality was crucial for the project to be a success.
With such a large capital expense required in order to bring their hardware up to date, the owners of Hotel Bania wanted a WiFi solution that would generate a return on their investment in the form of guest upselling and direct bookings. They had been made aware of such options, so wanted to explore this in addition to the hardware implementation.
The Solution
To keep the upfront costs down, Hotel Bania decided to work with one of Poland's largest telecom companies to spread the cost of the hardware purchase and installation.
Working with the telecom provider, Social WiFi provided options of which hardware vendors are compatible with Social WiFi. A vendor was chosen that provides enterprise level WiFi routers and Access Points that should maintain performance for at least 10-15 years.
To provide the marketing department with a tangible return, a number of functions were implemented to maximise the outputs of the Social WiFi service. Data Capture, CRM Integration, Review Gathering and much more was all planned and delivered by the Social WiFi Customer Success team.
Most important to the Marketing Team was the connection between Social WiFi's database and their email marketing platforms. Social WiFi had dedicated integrations for the two systems that they used (FreshMail and ProfitRoom), so the data would automatically be captured by Social WiFi and pushed to their other systems. With thousands of lines of data being collected each month, this was a big help.
Hotel Bania's Welcome Emails delivered relevant content to every WiFi user on their arrival to the hotel. Most guests log into WiFi within 30 minutes of arrival, so delivering information to them about the vast offering of the hotel would mean that they could always have these details to hand.
3,000+
emails collected monthly
The Result
With over three thousand confirmed guest email addresses per month, the hotel has gained a massively effective channel for building their marketing database.
Tens of thousands of reviews gathered have largely influenced online popularity of Hotel Bania, increasing its average rating by sending over 5,000 5-star reviews to external review platforms.
Social WiFi allows us to identify our guests through WiFi. By gathering guest data we can remain in touch with them through mailings and remarketing, displaying our top offers while they browse other websites. This way, we can market to the people who will truly be interested in our offer.

The most important feature of Social WiFi is the rating system and its integration with various review platforms. We encourage our guests to provide their opinions on the portal which is currently most important for us in terms of the brand image. Moreover, this process is fully automated, which is vital when dealing with such large amounts of data. This allows us to better get to know the expectations of our guests and develop in the proper direction.
Join Social WiFi
Setup isn't difficult. Social WiFi is compatible on most major hardware providers.
It takes minutes and we will be happy to help if needed!
14 days free

Easy setup

Cancel anytime