Chevrolet hits top gear with Social WiFi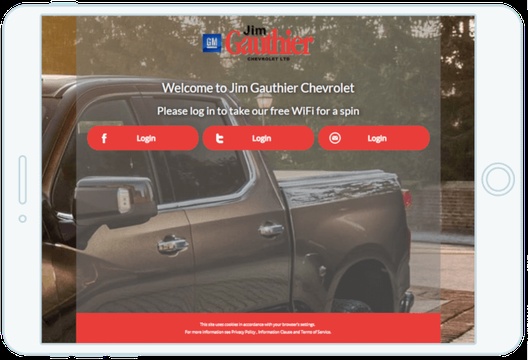 Problem
Initially, the key requirement of the client was to have a WiFi solution that integrated tightly with their existing WiFi hardware. However, as discussions about how Social WiFi could help, it became clear that a desire to gather online reviews and customer data for marketing was also a key requirement.
As an approved dealer of a globally recognised and respected brand, it was vital that any WiFi provider matched quality a customer would expect from such a brand and provide a customer experience that matched their brand guidelines.
x2.5
faster review gathering
Solution
As the IT Manager at Jim Gauthier Chevrolet had already installed a network of Cisco Meraki access points, we were able to configure Social WiFi onto their network with no additional hardware requirements. In fact, following our step by step instructions, they were online with our service within 30 minutes. A little bit of help from our U.S. support team ensured that there was no problems along the way.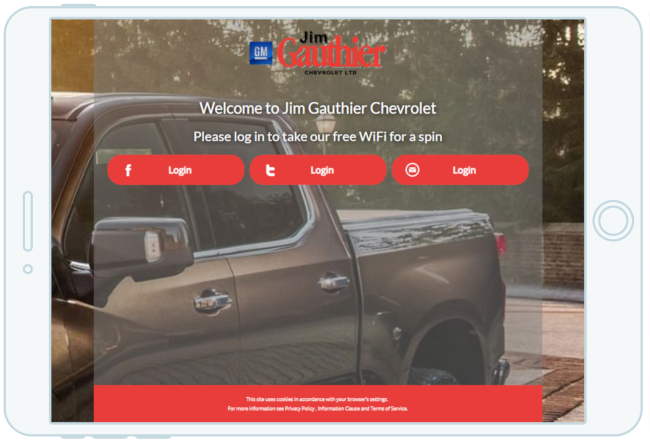 Aside from a branded login system, Social WiFi also fully branded the review gathering process, right through from the initial email to the bespoke landing pages separating positive and negative reviews. This gave customers and users comfort that they were truly leaving feedback for the benefit of the dealership and not for a third-party system.
Finally, Social WiFi separated the positive and negative reviews in a manner that allowed Jim Gauthier Chevrolet to privately manage customer issues but divert positive reviews onto Google and Facebook Reviews.
Outcome
In the first 6 months of having the Social WiFi service, Jim Gauthier Chevrolet had over 700 unique users on the network, which had a direct impact on the size and quality of their CRM database.
More importantly though, they started gathering online reviews 2.5x faster than they were doing so before setting up Social WiFi, and because only users that left a 4* or above rating were being redirected, all these reviews were positive.
As a dealership we were looking for a WiFi solution that could collect customer email addresses which we could use to expand our marketing lists. After talking with Social WiFi we quickly found out their solution offered everything we needed plus more. Setup on our local network was quick and easy with no additional hardware required and our IT Manager had us up and running in no time at all. I would recommend Social WiFi to any business looking to get more out of their free WiFi network.

- Justin Loeb, Digital Marketing Coordinator, Jim Gauthier Chevrolet