Cardinal Golf Club addresses the ball with their new guest WiFi
Cardinal Golf Group own and operate some of the most prestigious golf courses in Canada, including a 72 hole facility that is the largest in the country. With a goal to operate the finest of golf courses, it was fantastic for Social WiFi to have the opportunity to work with them.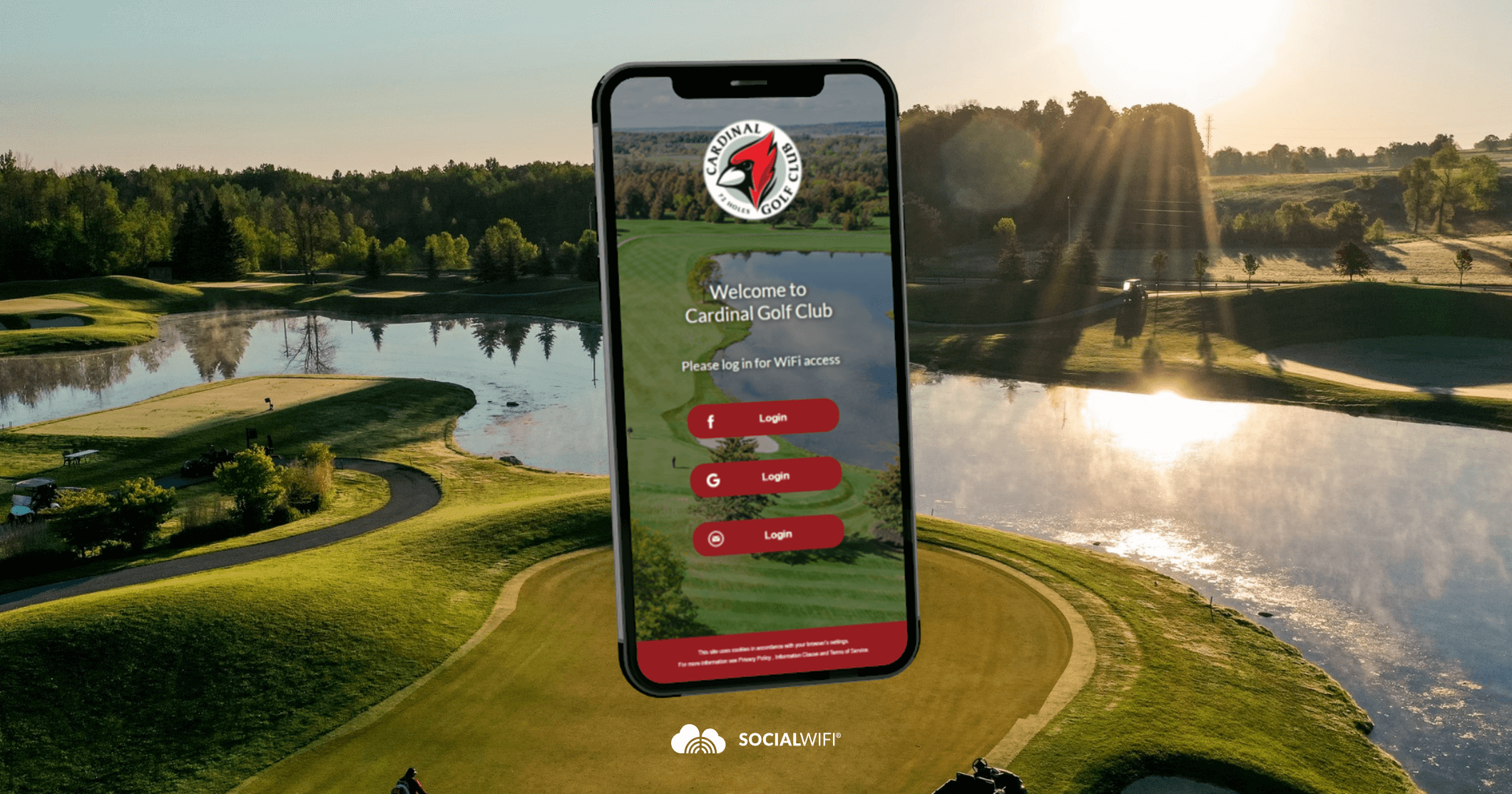 About
Cardinal Golf Club is Canada's premier public golf course and event facility. Its four 18-hole courses cater to a variety of skill levels; it hosts hundreds of functions every year.
Background
Naturally, Cardinal Golf Group operate club houses where players, members and guests can enjoy some relaxation away from the course. Shannon Enwright, Marketing Director, required a system that would help her identify the people using the facilities that she didn't already know.
Of course, there was already a lot of knowledge about the members, but a gap when it came to guests and visitors. For Shannon and her marketing department, these people are hot leads to sell new memberships to as they will have experienced the facilities and the quality of the product they offer.
The Challenge
Shannon knew what she wants to achieve from the outset and had heard from elsewhere that it would be possible through WiFi. What she didn't know about though was the setup of her existing WiFi network. By communicating with their 3rd party IT suppliers, it was established that they were using a brand of Access Point that was not supported by Social WiFi.
Typically, in this case we would configure a MikroTik router and connect it to the existing network, but there was a reluctance in this case.
It was decided that a partnership with Fortinet would be explored and to try integrating Social WiFi with their hardware range. It turned out to be a quick task and very quickly Cardinal Golf Group were set up with Social WiFi at their courses.
The Solution
Once the technical installation was completed (a remote process by Social WiFi and their hardware suppliers), a beautifully branded login system that matched the first class facilities that they provide. The simple login process with Facebook, Google or Email, meant that Shannon and her team could seamlessly and legally gather visitor data.
By making this data instantly available in the Social WiFi dashboard, it could be exported 24/7 to any CRM and mailing system they wished to use.
One function that wasn't initially used but later implemented, was the ability to automatically send communications to WiFi users. In particular the 'not-seen-in' automation was used to send an email to any users who had connected, but not reconnected within a set amount of days. The plan here was to try and attract back known visitors, who perhaps had been lost or needed an extra incentive to come back again.
The Result
In the summer season of 2019 alone, over 950 email addresses were gathered for Shannon and her team. Many of these came with additional details such as name, date of birth and hometown, to help with further targeting.
An unexpected benefit for Cardinal Golf Group was the review gathering tool, that attracted over 200 responses with an average score of 4.4. Reviews of 4* and above are being directed to their Google reviews page, meaning that up to 171 new positive reviews will have been written on their profile, boosting their local reputation.
The work we have done with Cardinal Golf has been some of the most enjoyable and rewarding that I can remember. A number of the team here are sports and golf fans, so to work with such a brand is a pleasure and we are surprised at just how much usage the networks are getting. We knew that they'd get positive reviews, but again, we were surprised by how many. This added even more value, which wasn't expected by us or the client.
Paul Webster CEO of Social WiFi
Golf is all about having a great course/facility, customer service and most importantly it is about knowing your members. With so many people constantly visiting and leaving our facilities we realized that there was massive opportunity to learn and connect more with our loyal customers.
Social WiFi was a great solution as we were already providing complimentary WiFi at our facilities. We now receive customer feedback on a daily basis, email lists for targeted campaigns, and user information so we can know the best ways to connect with our customers. Paul and his team at Social WiFi have been a pleasure to work with and we look forward to our upcoming years with them.
Join Social WiFi
Setup isn't difficult. Social WiFi is compatible on most major hardware providers.
It takes minutes and we will be happy to help if needed!
14 days free

Easy setup

Cancel anytime