Brisbane Airtrain drives engagement
Brisbane Airtrain was offering free WiFi for their passengers but sought a better solution for the customer experience and a solution would generate return on investment.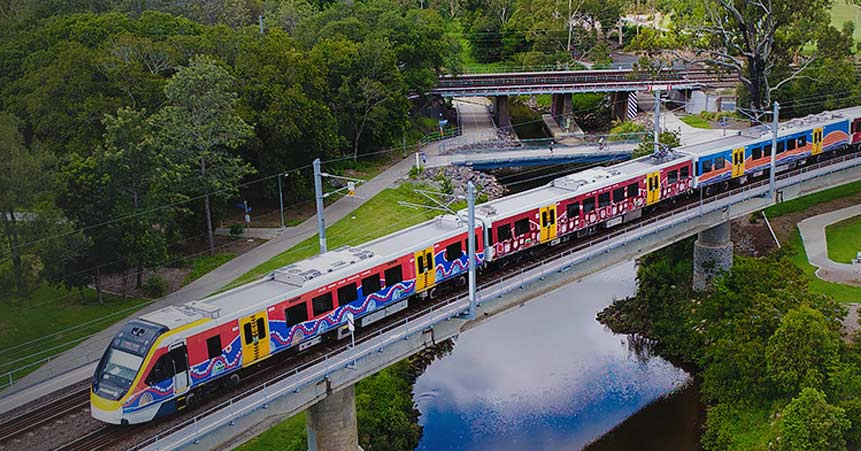 About
Airtrain is the commuter railway line that extends 13.0 km (8.1 mi) northeast from Brisbane to Brisbane Airport.
Background
Brisbane Airtrain was offering free WiFi for their passengers but sought a better solution for the customer experience and a solution would generate return on investment.
Providing WiFi in the transportation is an expensive endeavour due to the costs of LTE data and hardware. Often, hardware for vehicles can cost much more than for physical buildings. Offering all of this at no cost to the end user eats into margins.
The Challenge
One of the biggest concerns for Abbey Blanchfield, Marketing and Sales Manager at Brisbane Airtrain, was the sheer volume of users and email addresses that would be captured and finding an appropriate pricing structure that would deliver return on investment. Our first interaction was about the ability to capture a significant amount of data across multiple locations (or vehicles in this case).
Ms Blanchfield was pleased to learn that there would be a flat fee for the business regardless of the usage. That said, the amount of usage did take us by surprise.
Airtrain also wanted to gather more information about their passengers in order to improve the customer experience and reconnect with them through other marketing channels.
The Solution
After a quick conversation with their IT partners, it became clear that we would be able to implement Social WiFi on their existing Ubiquiti Unifi Cloudkey. After some optimisation work, Ms Blanchfield and the team had a fully branded login system, which seemingly gave users the confidence to share the details with the company.
Because the IT partners were managing the network remotely, the setup was quick and connected all vehicles in one sitting.
Also a connection was created to transfer customer data gathered to the marketing systems used by Brisbane Airtrain.
60,000+
connections to the network
27%
increase in Google score
The Result
Airtrain is able to access the user data any time and run an export of all the gathered data on a daily-basis to add to their other marketing tools.
Social WiFi also sent branded review requests to all WiFi users to gain their feedback on their travelling experience. Users leaving a positive review of 4 stars and above were requested to post the review on Google, resulting in 8 times more monthly reviews.
The option to send communications from Social WiFi was not used in this case in an effort to unify all communication channels.
Working with transportation is always a difficult task because the solutions that you are proposing adds to the costs. The need for large LTE data plans, expensive hardware and then adding our costs on top means that the client needs to see significant benefits to approve the cost. The results from Brisbane Airtrain have been better than we expected and the volume of customer data gathered offers a convincing ROI.
Paul Webster CEO of Social WiFi
The Social WiFi software has significantly increased our understanding of customer patterns, delivered a more consistent branding experience for customers and enabled Airtrain the opportunity to re-engage with customers whose data was previously unavailable.
Join Social WiFi
Setup isn't difficult. Social WiFi is compatible on most major hardware providers.
It takes minutes and we will be happy to help if needed!
14 days free

Easy setup

Cancel anytime