How Social WiFi and Profitroom are helping Polish hoteliers raise their revenues
As two of Poland's leading technology providers to the hotel sector, it made sense for Social WiFi and Profitroom to cooperate in combining services. Together, they give Polish hoteliers a powerful guest marketing and booking platform.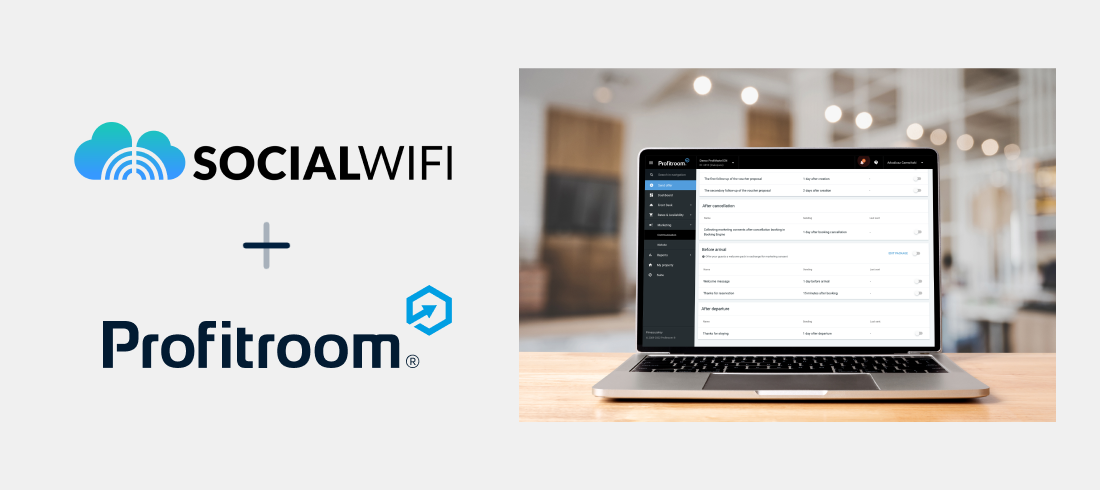 Common goals - helping Polish Hoteliers
With an aligned goal of improving direct booking rates, Profitroom and Social WiFi have suites of tools to support this goal. Profitroom have an award winning 360 booking platform and Social WiFi have their award-winning Guest WiFi and Review Gathering platform.
"What came clear to Social WiFi during conversations with Polish hoteliers was that Profitroom is their main technology system to manage guests, bookings and marketing, among many other things besides. And why wouldn't it be? Inside their one system, a hotelier can control their booking engine, marketing automation, digital marketing services, channel manager and website content."
Profitroom Suite - The key tool
Speaking to many people working in the sector, Profitroom is a tool that they cannot live without.
And with Social WiFi gathering valuable guest information for hotels, it made complete sense to integrate the database that they compile with the main marketing database that Profitroom hold for their clients too.
Who are my guests?
A key problem for hotels around the world is lack of knowledge about who their guests are and how to communicate with them. When travellers book through an Online Travel Agency (OTA), they do not provide the hotel the contacts details that they have for the traveller. And what is more, the OTA will take a slice of the revenue from the reservation. Hence, direct bookings are valuable to hotels and both Profitroom and Social WiFi exist to solve this problem.
How can you encourage a guest to book direct if you don't know how to engage with them?
Furthermore, let's say that we do have the contact details of the person making the reservation and that is in your CRM, what else? Well there is a strong chance that they are not travelling alone. Wouldn't we want to market to the members of the travelling party too?
A common example is the husband and wife travelling party. Many times, it is the husband completing the reservation and dealing with the admin side of it, but the wife chose the hotel. How can we get her details too?
Free Guest WiFi to the rescue
Surveys show that over 90% of hotel guests will connect to the Guest WiFi network within 12 minutes of arriving in their room if the network is free to use. So, by applying a Social WiFi login system to the network, hotels can give their guests a fully branded WiFi login experience, compliant with GDPR that will capture key marketing data about their guests.
The integration with Profitroom means that this data is seamlessly passed to the Profitroom Suite in an instant allowing it to be used in the future with Profitroom Marketing Automation features. Power stuff when you're looking to increase rebooking rates and get them coming direct.
Both technology providers offer much more to hotels besides what's mentioned above, but with this combined technology neatly integrated, hoteliers in Poland are getting outstanding results, improving their revenues.
Learn more about Social WiFi and Profitroom

Join Social WiFi
Setup isn't difficult. Social WiFi is compatible on most major hardware providers.
It takes minutes and we will be happy to help if needed!
14 days free

Easy setup

Cancel anytime