SMS Verification and Marketing comes to Social WiFi
For 10 years, Social WiFi has been a market leader in WiFi Marketing services with a focus and emphasis on email marketing and data capture. Using such a focus, we have helped thousands of business in over 100 countries develop a marketing strategy that compares to the ones of online giants. And from today, we now provide the same benefits but with SMS delivery channels too.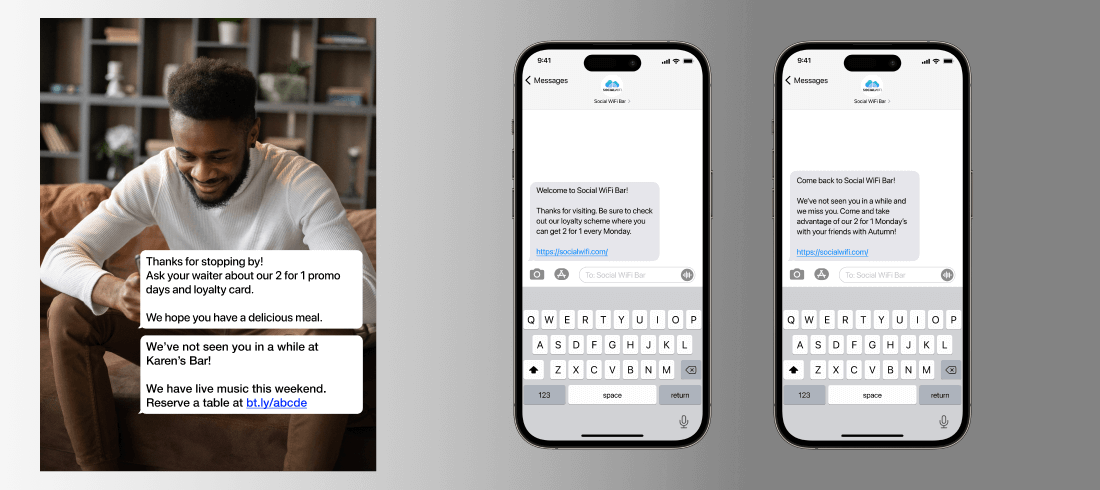 Providing Value
Social WiFi clients will be used to all of our existing email marketing options. Mass mailing campaigns to all users verified and opted in via our WiFi login system and also our smart automations that are dedicated to delivering the right message at the right time to the right person.
These tools have been a pillar to providing service to our clients over the last 10 years. While we started out as a tool to mainly gather email addresses and build a CRM, we quickly added in the ability to deliver Welcome Emails to WiFi users and other smart automations developed from there too. Now, we have numerous smart delivery automations depending on the behaviours of customers on your WiFi network.
Recently though, we've had more and more clients asking if we can gather phone numbers for them as they look to communicate with their customers on different channels. Initially we were reluctant as doing so would mean that we don't capture a verified email address from the WiFi user and therefore we cannot deliver rich vibrant content.
What's New?
But like any leading business, we listen to our clients and their feedback and consider how we can improve our system to benefit their business. And the time felt right to launch SMS WiFi Login and Marketing communication.
Our team launched this new service in Los Angeles recently at the B2B Marketing Expo where is wqas warmly received by Partners and existing clients. And we also received positive feedback from businesses that have interest in starting such strategies.
Social WiFi CEO, Paul Webster commented that he see's this development as a key step forward for Social WiFi becoming the only marketing tool a brick-and-mortar business would need, and that it also removes another reason why somebody would say "no" to signing up for Social WiFi.
SMS options
Very simply, businesses can add a Phone Login widget to their WiFi login screens. When used, the user will receive an SMS with a code that they input to confirm their number. They are them passed through the usual marketing opt-in stages and they receive internet access.
After this, businesses can deliver SMS communications in the following ways:
Welcome SMS
First Visit SMS
Loyalty SMS - SMS delivered after X visits or every X visits
Goodbye SMS - SMS delivered after specified period of time inactive on the WiFi network
Not-seen-in SMS - SMS delivered if user has not revisited in X amount of days
Birthday SMS - Send an SMS to a user on their birthday or X days before
Users can easily set these up in their dashboard and create multiple language versions, deliverable based on the detected settings language on their device. As SMS is purely text based, creation is extremely easy and takes a few second. Much easier to use than email marketing drag-and-drop editors.
Global Coverage
While we launched the new functions in Los Angeles, this function is available worldwide. All 107 countries that Social WiFi presently has clients in can unlock this new feature by reaching out to the Support and Sales teams. Because SMS delivery costs vary in each country, they will advise on the costings each client is look at case by case.
For example, in the USA you can expect to pay less that 1 cent per SMS, but in parts of Asia you might pay over 30 cents. At present we leverage the global presence of Twilio, but will look to add additional local vendors in the future to improve the costings for businesses.
$5 Free Trial
Interested in trying this out? You'll find a $5 free trial in your dashboard to activate and then our team will reach out to go over the options that you have after this credit is used.
It couldn't be simpler! Reach out to us today if this is a communication strategy that you would like to implement in your business today.
Join Social WiFi
Setup isn't difficult. Social WiFi is compatible on most major hardware providers.
It takes minutes and we will be happy to help if needed!
14 days free

Easy setup

Cancel anytime