ChatGPT on Social WiFi - What's Happening?
You will have seen that in April Social WiFi released its first version of a ChatGPT AI assistance tool into its product. Like most industries, we have sat up and taken not how how much impact this technology is having on the world and decided to experiment with how it can add value to our WiFi Marketing platform. As the market leader in such technology, it was a no-brainer for us to adopt this right away and see its value.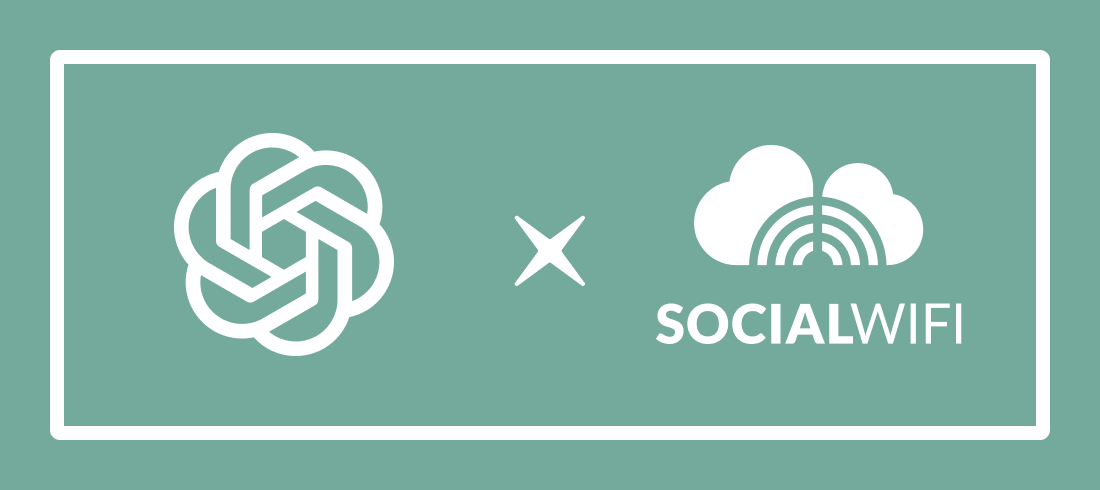 What's There Now?
The first places we considered was the places in the dashboard where clients input their own text. Mostly email creation and replying to customer feedback, most of which is negative owing to the structure of the Social WiFi Review Gathering system. And with email creation being a bit more complex, we started on adopting ChatGPT into generating replies to the feedback that users give.
As background at this point, its important to understand where customers of Social WiFi clients can give feedback via the system. If a customer leaves a negative score on the review email that is sent from Social WiFi, instead of sending the user to their online review page, they are sent to a landing page with a feedback form on, which allows them to leave their thoughts without them being publicly displayed online.
So as mentioned previously, the vast majority of feedback that clients can expect to see in their dashboard inboc is negative. And weirdly, we're pleased about this. We'd rather not see any feedback at all, but if there is any, we want to see the negative stuff.
Detecting Sentiment
Nobody wants to feel like they're getting auto responses, which is why chatbots and such tools struggled over the last decade. They felt too much like an interactive FAQ system that an actually chat tool. But OpenAI and ChatGPT has changed the game with this. Their systems can take an input and understand on what feels like a human level the underlying sentiment and topic of the conversation. Its incredibly powerful and by providing ChatGPT the feedback of customers, it can work out what is really going on in the customers mind.
With this in mind, Social WiFi worked on prompt engineering through the OpenAI API tools to supply the feedback from the customer and give their engine instructions on how to interpret it and how to reply. ChatGPT is so sophisticated that you can tell it to write in a certain tone of voice and handle different scenarios in a way that suits you and your own voice. But writing a prompt to suit all our clients from luxury 5 star hotels to fast food restaurants is difficult. So we have kept our first release safe with a "middle of the road" approach.
Unhappy Customers
Ok here we go! Our first example with the type of feedback you can expect to see in a Social WiFi inbox.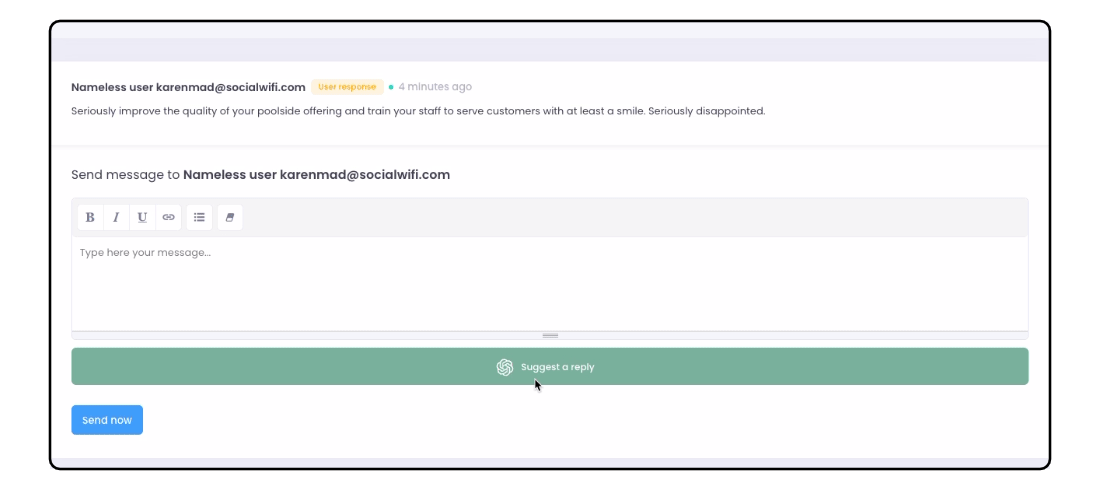 Feedback: "Seriously improve the quality of your poolside offering and train your staff to serve customers with at least a smile. Seriously disappointed."
Response: "Dear Customer, we are truly sorry that your experience at our poolside did not meet your expectations. We take your feedback seriously and have already begun taking steps to improve the quality of our poolside offerings and train our staff to deliver a better customer service experience. We hope you will give us another chance to exceed your expectations in the future."
Constructive Feedback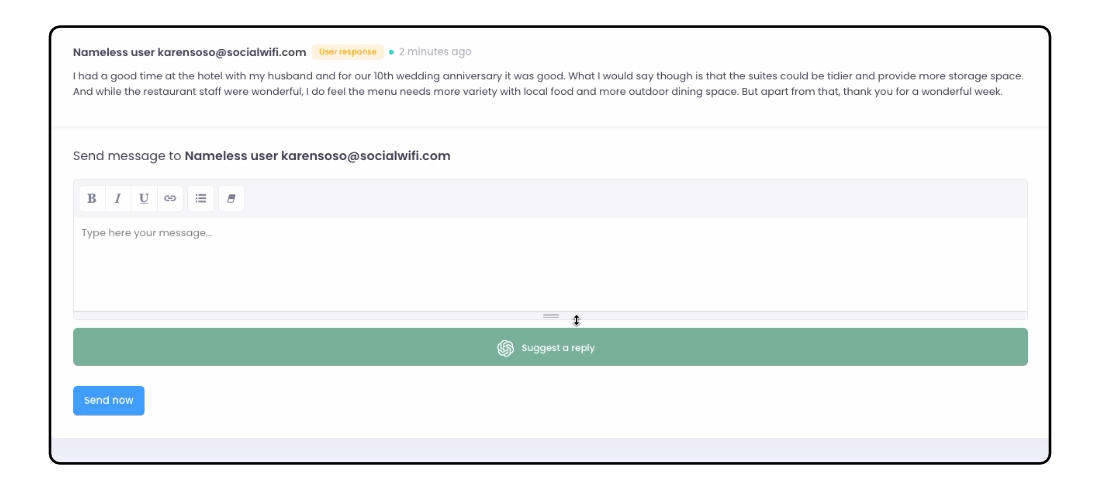 Feedback: "I had a good time at the hotel with my husband and for our 10th wedding anniversary it was good. What I would say though is that the suites could be tidier and provide more storage space. And while the restaurant staff were wonderful, I do feel the menu needs more variety with local food and more outdoor dining space. But apart from that, thank you for a wonderful week."
Response: "Dear guest, Thank you for choosing to celebrate your 10th wedding anniversary at our hotel. We are glad to know that you had a good time. We appreciate your feedback and will definitely work on providing tidier suites with more storage space. We will also work on providing more variety of local food and more outdoor dining spaces. We hope this did not significantly impact your experience and would love to welcome you back in the future. Best regards, Social WiFi Coffee House Management."
Positive Feedback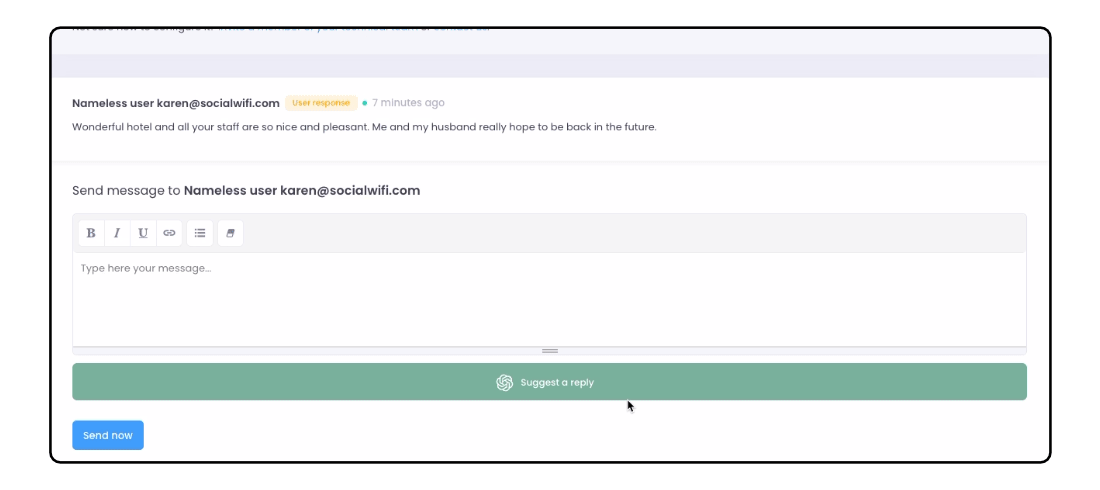 Feedback: "Wonderful hotel and all your staff are so nice and pleasant. Me and my husband really hope to be back in the future."
Response: "Thank you so much for your lovely feedback! We're thrilled to hear that you and your husband enjoyed your stay with us, and we can't wait to welcome you back again in the future. Our team takes great pride in providing excellent service, and we're so glad to hear that you found them to be nice and pleasant. Thank you for choosing our hotel!"
Where We Are At
As you can see, the generated replies are pretty solid. By no means are they perfect, but we continue to experiment with what we want the engine to output and in what format. At the moment, we're asking ChatGPT to keep the reply to less than 400 characters and to reply in a way that mirrors the sender. You can see that there is a mix of formatting and formality across the replies.
We're also using GPT version 3.5 which is widely accepted as an inferior sibling of the most recent version 4. Eventually we will look to migrate to this but with the higher costs, it may have to become a premium feature upgrade, but the internal experiments are very impressive and should make it a compelling value add.
And we would love to hear what you think about the integration and the replies it is generating. Share with us your feedback and how you would like to see the replies improve so that we can work on our prompt engineering and make it better for you.
Join the AI future
We're not exaggerating when we say this Social WiFi x ChatGPT integration is a MASSIVE leap forward in customer engagement technology. With the power of AI, businesses can transform their customer interactions, skyrocket satisfaction levels, and build relationships that last.
P.S. Stay tuned for even more mind-blowing updates on this dynamic duo – the Social WiFi x ChatGPT partnership is just getting started!
Join Social WiFi
Setup isn't difficult. Social WiFi is compatible on most major hardware providers.
It takes minutes and we will be happy to help if needed!
14 days free

Easy setup

Cancel anytime