Hotel WiFi at an elite level in the Tatry Mountains
A hotel with an unusual past where guests can experience what the ruling elite in the 1970's had access to. For years, Hotel Tatry was inaccessible to ordinary citizens and reserved exclusively for Ministers.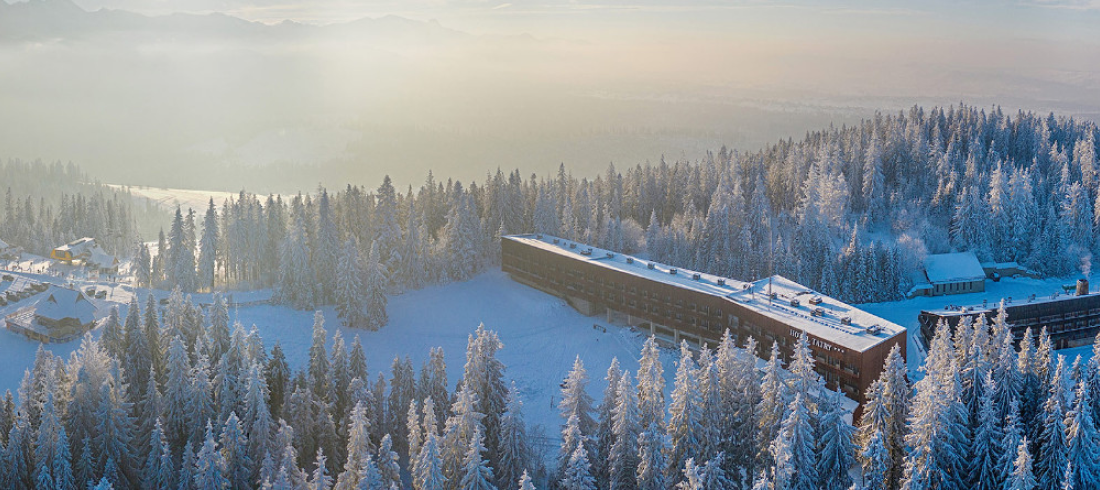 Located in the stunning Tatry Mountains of Poland, the hotel takes its guests on a sentimental journey and allow them to experience the atmosphere of the communist era, which their former prominent guests would be used to.
Today, the hotels interior refers to its times of glory in the 1970's. From the moment guests arrive, they are stunned with eye catching marble, an original reception desk of stone and wood, and a leather furniture set befitting of the political elite.
All in all, a unique hotel that can deliver an unforgettable experience.
About
A unique historical hotel
Background
Hotel Tatry is part of a hotel group with 4 other hotels, all of which were looking for a way to collect guest information and target direct rebookings for the following years. With a large number of their guests being domestic visitors from Poland, they knew that there was a high chance of getting them to rebook at one of their other hotels in future years, if they had a way to contact them in the future.
With a large number of bookings coming through OTA's, they were keen to look at options to gather guest data and market to guests in the future. Any other benefits on top of that were a bonus.
The Challenge
Operating five large hotels, they already had a lot of WiFi infrastructure in place worth a significant amount of money. Replacing hardware was not an option, so any solution had to work with what they already had.
The database had to be easily accessible for each individual hotel and all five as a group. Central management wanted to have a consolidated view of all the data across all hotels, but they also wanted each hotel to have access to just their data and run separate campaigns if required. Unsure of how future campaigns would look, they wanted the flexibility in the future to decide.
The Solution
After some analysis of their existing IT equipment, it was decided that the purchase and installation of MikroTik routers in each hotel would be the best way forward. This solution was cost effective and a vendor that can connect with any other brand of WiFi Access Point.
This appealed to the IT department of Hotel Tatry Group because should they wish to upgrade Access Point hardware in the future, they could choose for a wider range of brands and not be tied to the ones which Social WiFi would support.
As Social WiFi have vast experience with MikroTik, all routers were configured and shipped from our HQ and simply connected on arrival at each hotel.
To give their marketing department as much flexibility as possible, Social WiFi created a structure that allowed HQ employees to have a view of all hotels (Project View) and then 5 individual hotels beneath (Venue View). This hierarchical approach is common with Social WiFi, especially for multi venue enterprise clients.
The benefits of this structure went beyond the ability to view statistics and data, and also allowed Hotel Tatry to create unique branding for each hotel and gather online reviews for each individual hotels review sites. It created a less generic experience for guests, which was important given the unique nature of Hotel Tatry, which has significantly different attractions and benefits to the other four hotels.
200+
negative opinions intercepted
The Result
Since January 2020 to today (april 2023), despite the Covid-19 pandemic and several lockdowns, Hotel Tatry has seen over 22,000 unique email addresses gathered and added to their CRM.
Their marketing department has been able to add these to their CRM and retarget these guests in an effort to cut out the OTAs and boost their revenue.
Furthermore, as Social WiFi has also been asking these guests for their feedback after the visit, over 2,000 five-star reviews have been received and almost 600 four star reviews. Because of the automated nature of Reviews by Social WiFi, these were requested and gathered with no manual intervention needed.
Join Social WiFi
Setup isn't difficult. Social WiFi is compatible on most major hardware providers.
It takes minutes and we will be happy to help if needed!
14 days free

Easy setup

Cancel anytime