More is better when it comes to online reviews for Hotel Grand Ascot
The southern city of Krakow is one of Poland's top tourist destinations, attracting people from all over the world to its historic city and nearby attractions such as Auschwitz and the Wieliczka Salt Mine.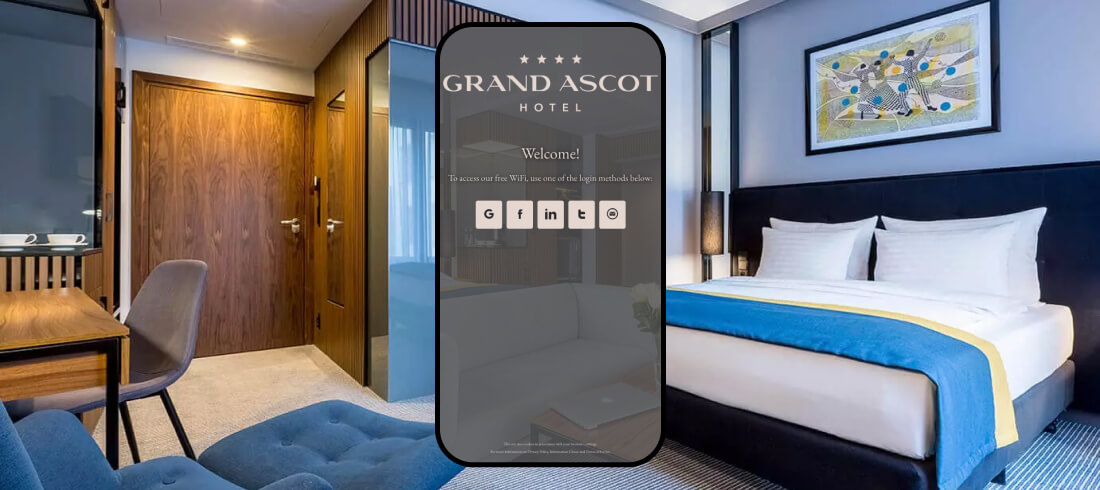 A boutique hotel in the heart of Krakow, Poland, Grand Ascot Hotel is an elegant and sophisticated 4-star hotel that strives to exceed all expectations of guests. For them, Grand Ascot means prestige.
Grand Ascot is one of the city's top hotels with a perfect 5.0 rating on TripAdvisor from 456 guest reviews. By focussing on guest experience and elegant surroundings, they are achieving a high level of guest satisfaction.
About
A prestigious hotel in the heart of the historic city of Krakow
Background
With such excellent review scores, Grand Ascot wanted to get more volume in order to rise higher up the local rankings. Despite such high ratings, they still sat around 20th in Krakow for hotels. Increasing the volume of these reviews would lead to a higher ranking. After all, who clicks onto page two?
Also, with a large number of guests booking through OTA's like booking.com and hotels.com they wanted to get the guest contact data that is normally withheld and add them to their own CRM systems for future remarketing and improve their volume of direct bookings.
The Challenge
Grand Ascot had not long installed new WiFi infrastructure that was not a supported vendor by Social WiFi. Replacing hardware was not an option, so the solution had to work with what they already had.
Furthermore, guest experience is of the utmost importance to the management team and the login process had to look premium and reflect the brand guidelines. Knowing that connecting to WiFi was one of the first activities of their guests, they needed to make sure they continued to make a strong first impression.
The Solution
Knowing that their existing IT equipment was from a vendor that Social WiFi does not integrate directly with, the purchase and installation of a MikroTik router was the only option. A cost effective solution that connected up to their existing equipment and broadcasted their new guest WiFi network.
Configured and shipped from Social WiFi's Poland office, it just needed to be connected to the server stack in the hotel and tested by a few staff members around the hotel before setting live.
To give guests a premium experience, Social WiFi designed extremely stylish login pages for the hotel management, by adding their own artwork, colour schemes and even fonts to the login process. The result is a fully branded and GDPR compliant login process what gives guests the reassurance that their information is going to the hotel and not to a tech company that they do not know.
Another key solution applied to the system was the automation of feedback gathering to drive online reviews. Again, fully branded, an email request with simple call to action was set to send 27 hours after a users last connection to the WiFi network. If a user responded 4 stars or higher, they would be sent direct to the Grand Ascot Google Review page.
200+
positive reviews gathered
22
negative reviews intecepted
The Result
During the summer/autumn season of 2022, May to November, Social WiFi built a database of over 1,500 guests for Grand Ascot. Usually, most of this data would have been withheld by the booking agency or not provided at all.
From 1,400 sent review requests, 203 reviews of 4 star and above were gathered. 26 reviews that were below this threshold were intercepted from going to Google Reviews and these guests were instead provided a landing page to leave additional feedback. 22 guests left private feedback, enabling the hotel management team to reach out to these guests and address any issues.
"Social WiFi makes possible, among other things, the ability to display messages in real time, send email communications, and importantly, collect feedback through a five-star rating system.
It is a great way to interact with our guests even after they have left the hotel to encourage them to come again, so we can target our marketing messages only to people who will actually be interested in them."
Join Social WiFi
Setup isn't difficult. Social WiFi is compatible on most major hardware providers.
It takes minutes and we will be happy to help if needed!
14 days free

Easy setup

Cancel anytime